The Yamaha SR400 retro Japanese rocket has ruled the hearts of young Japanese motorcycle enthusiasts. The Yamaha SR400 chassis and engine serves as a popular base for many café racers, street trackers and even bobbers.
The Yamaha's SR400 is the direct descended of the SR500, but with a shorter stroke and heavier muffler due to tighter emission restrictions. Our Japanese friends at Motor Rock are quite tempted with the SR400; with each custom project they always craft something unique.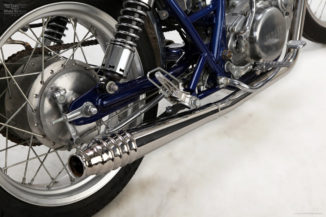 The base for Motor Rocks customization was a stock Yamaha SR400, which has been stripped, chopped and grinded to adapt the bobber style. The structural modification includes a seat rail processed frame and swingarm. The stock engine was overhauled and features a Motor Rock air cleaner. The engine is also fitted with Motor Rock's 69 megaphone exhaust. The fabrication work includes a one-off fuel tank, modified Estrella genuine rear fender and drilled sprocket cover.
At the front this custom Yamaha SR400 features Motor Rocks 69 drag style handlebar and a 69 type 1 switch fitted with KIJIMA Chopper grip. The popular bates headlight is an idol choice fitted with Motor Rock's headlight stay and Kijima Old bullet winker.
The rear of this bike includes short progressive suspension, a 69tail type 1 taillight and license holder from Motor Rocks own catalog. Other parts from Motor Rock's catalog is the 69 decompression lever and billet kick pedal.
The finished bike rolls on Motor Rock's 21 inch front and 17 inch rear wheels wrapped in Avon SP MKII front and Dunlop tire at the rear.