Just the other day I was looking at a picture of a motorcycle graveyard, It was disheartening to see bikes built to live forever were laying discarded waiting for their salvation.
Many vintage, classic and custom motorcycles survive to this day due to the passionate motorcycle restorers and the custom motorbike builders.
Today's feature build a custom Yamaha SR250 is a testament to motorcycles living forever. This industrial style Yamaha SR250 has been built by Gamberra CHM, a custom motorcycle workshop from Chiclana de la Frontera, Spain.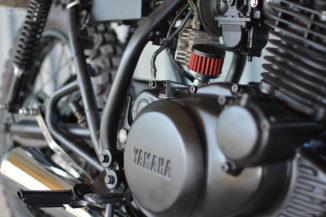 Gamberra CHM, was born to give an identity to the customizations they do. In fact, more than customizations, they attempt to provide a second life to those bikes that had been left forgotten in a corner of a garage or shed and that deserve a second chance.
This customized Yamaha SR250 is one of those rescued bikes; a bike whose condition was absolutely unfortunate after being outdoors weathering and unused for almost 7 years.
The transformation has been relatively fast. In terms of mechanics, only the engine has been reviewed with a good cleaning and adjusting of the valves and carburetor. The transmission kit has been completely changed. The original air filters have also been replaced with others a little bit smaller.
At Gamberra CHM, they try to rescue as many pieces from the junkyard for the customizations and that is their philosophy. The fenders, light and handlebars have all been salvaged. The battery case is handmade, as well as the seat and the box lights.
The tank on this custom Yamaha SR250 is original but has been stripped and sanded, oxidized with vinegar, and lacquered with a special varnish coating to protect metals.
The sound of the Megaphone exhaust matches very well the aesthetics of the bike and the studded tires provide an excellent grip on both asphalt and dirt road.
It takes a great imagination and sheer passion to craft custom motorcycles, the final result is a light Yamaha SR250 with an aggressive, industrial look. A bike which has been reborn and lives to travel the roads, see the world and tell a new story!