When it comes to brainstorming a custom motorcycle build it is easy to come up with all sorts of crazy ideas from attacking the bike with an angle grinder to welding the frame. But in reality we all know that coordinating the visual to the actual result and then reflecting the form over function is pretty damn hard.
You need a combination of skill sets to execute a great custom motorbike build. Istanbul based Bunker Custom Cycles seems to have the right skills to craft killer transformations. Not long ago we witnessed their craftsmanship with a custom Honda CB650C, but with today's feature a Triumph Bonneville T100 Custom these guys seem to be raising the bar.
According to Mert "Triumph Bonneville T100 was already a very pretty looking bike when its owner Omur Uluask brought her to our garage. We tried to do our best mainly to carry the visual balance as far as we can, after the drawing process we started our work.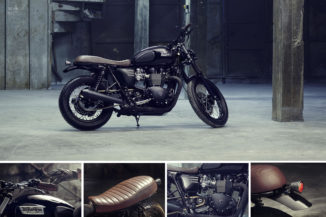 To begin with we threw out the rear fender, stop and signal assembly. The tail length was our main concern. It originally had straight end pipes with plastic caps hidden underneath the seat. We've shortened the tail end and seat approximately 20% and ended it with a loop. Then we cut off a small piece of the loop to make the seat bolts accessible."
At the front this Triumph Bonneville T100 Custom features a Bitwell low-rise handle bar to accompany the new riding posture. The grips are covered with the same brown leather as the seat.
At the rear of this Triumph Bonneville T100 Custom are progressive rear shocks to improve handling which are 2-3 cms higher than stock, giving the bike a more aggressive stance. An aggressive looking guard to the headlight rim was also hand fabricated by Bunker Custom Cycles. Whilst a OEM yellow beam was installed to give a more characteristic and vintage look.
The engine is fitted with K&N air filters and British Customs Predator silencers. The power commander was wired to squeeze out more power, after dyno testing and new mapping the result is 68,7 hp 71 torque.
The front and the rear fender of this This Bonneville T100 custom are handmade to accompany new rear balance. The engine fin inspired stoplight was handmade in lathe and the front and the rear turn signals were relocated. The side panels were drilled out and have been fitted with aluminum mesh referencing to the open air filter. Other fabrication work includes a handmade front engine guard.
The end result is a visual dope for motorbike enthusiasts and something that keeps hope alive that one day we might all build our own custom motorcycle. If Bunker Custom can do it you can do it too. While you keep browsing Moto Rivista, we will keep a close eye on Bunker Customs next build.