Sucker Punch Sally's, the masters of Old School, teamed up with Fender Guitars to build this vintage Isle of Man Triumph Thruxton Café Racer.
Thruxton is a British motorcycle made by Triumph Motorcycles. Launched in 2004, it was named after the Thruxton racing circuit where Triumph won the first three places in the Thruxton 500 mile endurance race in 1969, establishing the 'café racer' era where standard production motorcycles were modified to improve racing performance.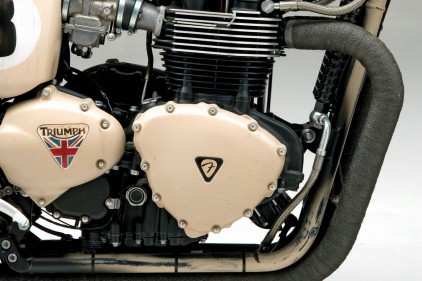 This Triumph Thruxton Cafe was custom built by Sucker Punch Sally's specifically for Fender, the famed guitar manufacturer. The Triumph was fitted with custom parts and paint to make it look like a vintage Isle of Man Café Racer.
A new 2009 Triumph was acquired for this project, the build started with very minimal mechanical changes. This Triumph Thruxton received a custom bent set of wrapped exhaust that sweep under the engine like old Bonneville TT-style and Öhlins piggyback reservoir shocks for rear suspension. A pair of HID lamps with the twin beams shining though the openings in the number 8.
The paint job was completed by a self taught lead hot rod artist Sara Ray. Everything Sara Ray has done on this Triumph is stunning, from the satin-blue base coat, the stripes and the pin-up queen a top the tank to the various decals adorning the bodywork, all was applied by brush!