A big tribute to the riders from the 60's, without their courage and experiments we would never see any-thing like this Triumph Scrambler EFI. Back in those days off-road sports motorcycles were stripped back for one ultimate purpose and that was racing.
The Triumph Scrambler is the kind of bike you don't have to try hard to fall in love with its off-road offerings. This particular custom Triumph Scrambler EFI aka Amazonia, is designed by Ton-up Garage for an off-road fanatic.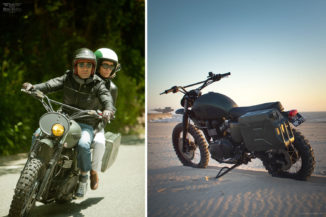 The idea was to build a bike with good road handling for every day riding. The bike should also have loads of off-road aesthetic details, such as the tires, foot pegs and handlebar. The base for Ton-up Garage's build was a 2012 Triumph Scrambler EFI. Given the fact the iconic Triumph Scrambler EFI is already a great looking bike, it was a challenge for Ton-up Garage to take it to another level.
The engine of the Triumph Scrambler EFI had some minor tweaks, like an improved air elimination kit. The rest of the engine was kept stock and was fitted with a fantastic 2013 Zard Short model exhaust. This is specifically made to fit the Scrambler injection models, although the same exhaust is available for carbs models.
The fabrication work includes a shortened rear mudguard and the front mudguard was slightly lifted. At the front this custom Triumph Scrambler EFI features a chopped up grill to fit the headlight, which brings a more off-road style to the bike. The indicators are small units so that they can be unnoticed on the bike. Ton-up Garage has used one of the finest speedos on the market to fit on this custom Triumph Scrambler EFI and they decided to go with a Motogadget.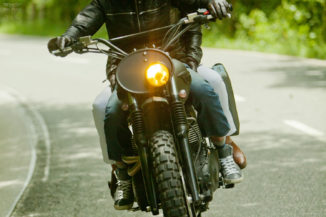 The bike has an old school off-road handlebar fitted with Magura livers. The wheels were painted in black and wrapped with off-road tires. The stock rear shock was replaced with Ohlins shocks, fork springs were changed to Ohlins progressive springs. An old jerrican has been fitted on the left side of the bike for a luggage box.  The bike was painted in green and was named Amazonia because of the full green painting scheme along with the style of the bike and suits it perfectly cruising the big forest roads!
I don't know whats it's like to go off-road on a Triumph Scrambler EFI, if you do please share your riding experience with us….