Italian Factory Bike has just unleashed a new special Triumph Speed ​​Triple T301 – PC6 Café Racer, an English motorcycle with Italian artistic soul.
Hailing from the land of the engines, the young company of Correggio opens the doors to 2012 dedicating this motorcycle to the 1950's Cafe Racer movement which is still very much in vogue today.
Triumph Speed Triple T301 – PC6 is a fusion of elements and physics that can have a motorcycle with a plane. Only one thing unites a plane to a motorcycle, the speed! An increase in speed of a bike leads to an increase of the gyroscopic effect on the wheels and thus stability. Increase the speed of an aircraft results in increased lift on the wings, and this is what allows you to fly a plane.
The starting point for this build was a 1995 Triumph T301 Speed Triple and the 885cc engine is all that was retained.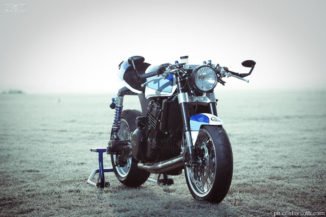 The most laborious work on this project was in the back of the bike. The stock bike comes with a shock absorber in the central arm, which was removed along with all its levers and media. The rear frame was totally rebuilt, which allows the attachment of the 2 Modern Classic style lateral mono-shock absorber. The rear tail is derived from Thruxton Cup in which houses a short silencer in titanium and carbon, the use of these material is very important since it prevents excessive heating.
At the front this Triumph Café Racer features a powerful massive reversed front forks, radial calipers, and give an element Racing goes well with the bike. Since replacing all the the elements around it did not allow a pleasant view of the tank, Italian Factory Bike decided to modify the bottom of the tank by using patches of the welded steel.
This bike is set to be presented next week at the 2012 Motorbike expo in Verona, visit the Italian Factory bike booth to take a look at this bike up close and personal.
Italian Factory Bike Special thanks to: – Tedak Racing, DM Meccanica,  FG Gubellini,  Top Gun Fly School,  Body Fly University, Aeroporto di Reggio Emlia,  Iotti Cristian,  Mazza Gabriele, Comune di Correggio.
Disclaimer: If any of the facts in this article have been lost in translation we apologize, please feel free to comment and correct us! Moto Rivista editor!