Spain has to be a paradise for motorcycle riders; here you can ride on beautiful mountain roads or alongside the most stunning beaches. The riding experience in Spain is one thing but riding next to some of the most stunning modified custom motorcycles is another.
Today's feature build is from Maccomotors, a Triumph Bonneville SE Custom aka Dusty Pearl. We asked Jose to give us some background about Maccomotors " My old time good friend Tito and I are based in Chiclana de la Frontera, Cádiz, in the south of Spain. We are more than friends we are like brothers; we have shared the same passion for four and two wheels for almost 20 years.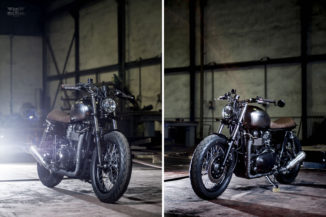 We have owned several bikes, from Norton Commando 850 to Ducati Paul Smart, plus two Bonneville T100 and others. It didn't take us long to look into the trending custom motorcycle scene across the globe. What we discovered was the various styles of custom bikes, starting from Japanese brat-style, street trackers, bobbers and of course cafe racers. After getting insight from the custom scene we decided that we would love to build our own bikes.
In early 2012 we bought a 1983 Kawasaki Z1100 St, the bike wouldn't start and had a valve problem but the price was worth it. We decided this would be the No.1 Macco and Maccomotors was born. When the bike was half done and was sold another customer came with a Montesa, and so the story goes on.
When it comes to customizing motorcycles, our build philosophy is to be aesthetically beautiful and functional at the same time. It starts with exploring the customers expectation for their custom style. When we finish a bike and give it a new life and a new personality we feel really satisfied, we know what we do is worthwhile. The design for us is fundamental: the shapes, colors and all parties must have harmony.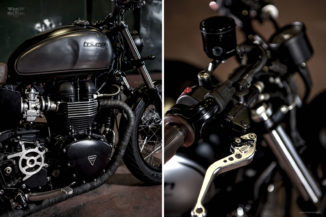 Just like the other clients Juan Manuel was aware of our work so he commissioned us to work on his Triumph Bonneville SE. He wanted to completely change the look of his stock bike. He wanted an industrial looking motorcycle that was also muscular and functional. His main modification requests included the use of a Supertrapp exhaust and alteration of the tires, the rest was up to Maccomotors.
Our big challenge in this build was that Juan Manuel also wanted to put the stock seat on to travel with his wife. It was a critical part and to over come this we have built a sub-frame interchangeable with the original Triumph. Yes interchangeable! We welded sub-frame bushings both 14cm long and new screws. I am not sure if I have seen this on any other bike, this Triumph Bonneville SE Custom is the first one I know of to have two sub-frames. The other challenge, in order to give the bike the industrial look that JM wanted the side handles are made of stainless steel and expose the rear brake pump."
The finished Triumph Bonneville SE Custom is the true reflection of a customers expectation, I can only imagine how much joy the owner of this motorcycle would be having. Nice build from Maccomotors. Keep up the good work, we will be keeping a close eye on you guys!
Dusty Pearl specifications:
[one_third last="no"]
Handlebars:
levers:
Grips:
Speedometer:
Front brake reservoir:
Headlight:
Tail light:
Mudguards and bracket:
Spokes rims:
Tires:
Footpegs:
Side panels:
Fork front springs:
Rear shocks:
Seat:
Exhaust system:
[/one_third]
[one_half last="no"]
Rizoma 22 mm
Polished Short control
Tomaselli
Single
Rizoma
Bates 5 ¾
Mongrel
Maccomotors
18" front, 17" rear
Metzeler tourance 140 rear and dunlop 110 front
Racing
Maccomotors
Progressive Wilbers
Progressive Bitubo WME
Maccomotors
Supertrapp
[/one_half]