Custom motorcycles are getting popular in Portugal and it's becoming a part of their culture and lifestyle. Today's feature build a Triumph Bonneville EFI aka Triumph Soul Train, is a part of that radical Portuguese custom motorbike culture.
Ton-up Garage have taken a stock Bonneville EFI and tailored it into this beautiful Triumph Soul Train. Ton-up Garage promotes a lifestyle that allows us to live again the decades between the 50s and the 80s.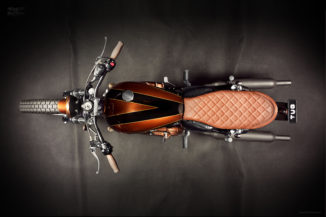 The base of this motorcycle is a 2008 Triumph Bonneville EFI. According to Pedro "We were contacted by a passionate motorcyclist from France who had seen our previous build, the Urban Pearl. He asked us if we could build a bike for him, inspired by the aesthetics of Urban Pearl, but with light custom work on it. So in the end we can say this was a light custom for a Bonneville. The bike traveled from Portugal to Biarritz and was delivered in Biarritz, where the Wheels and Waves was taking place.
Regarding the engine and electronics, the bike was kept in the stock version. The engine was painted black and the side covers were painted brown. We kept the stock exhaust system, changing just the color of the exhaust and fitting brown wrap.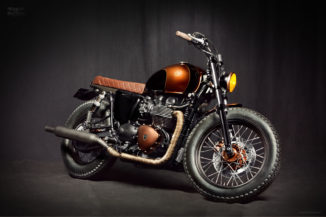 The rear and front mudguards on this custom Triumph Bonneville EFI were built in house and painted brown. A twin brown Ton-up Garage seat was fitted on the bike for two people. We used a small black and copper headlight with yellow lens, small black indicators and a small black led taillight. We've also fitted a small speedo, LSL black handlebar and brown grips.
The wheels hubs were colored brown and the rims are powder coated black, and we've fitted a 16" rim on the rear wheel. The tires are vintage. The original rear shocks were replaced by two Ohlins shocks and also the fork springs were changed to Ohlins progressive springs. We've decided to paint the bike in black and brown, using a yellow line to separate the black and brown on the tank."
The first apparition of the Soul Train was at the short movie TUG TRIP to Wheels and Waves 2013 Diary of a Journey, you can watch the trailer or the movie.