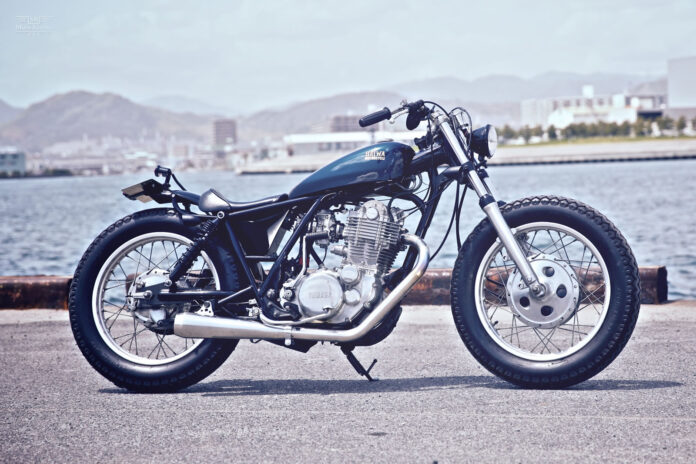 Yamaha's iconic SR400 came to existence in 1978, thirty-five years to this date and yet it's still Yamaha's most desired and celebrated motorcycle model. What made this bike successful was the simplicity of its aesthetics and the reliable air-cooled single cylinder motor.
The SR400 ruled the hearts of daily commuters and the bespoke craftsman; this motorcycle has served its purpose for almost every thing you could expect from a true machine.
Yamaha's SR400 model is the most bespoke featured motorcycle model on Moto Rivista. Today we are featuring a modified Japanese Yamaha SR400, build by master craftsman Kengo Kimura of Heiwa Motorcycle. I have said this before and I will repeat it again; the amount of custom contributions which comes from Japan doesn't get recognized on a global scale as much as it should. Many bespoke American and European motorcycles also have custom parts made in Japan.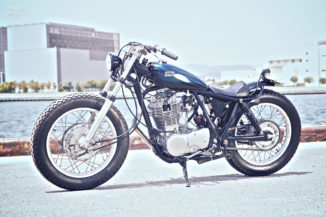 Lets take a look at the modification of this Yamaha SR400. To begin the build the stock bike was stripped down to the engine. The engine was cleaned out and has been fitted with a power air filter and a one off custom exhaust. The stock frame was modified at the rear to accept the new seat and the style.
At the front the bike features 7cm Lowdown front forks while the rear houses a short suspension. The fabrication work on this custom build includes a one-off fuel tank battery case, a sort rear fender with taillight and a license holder. The 4.5 inch front headlight is from Bates and the Early tail lamp at the rear. The speedometer is a Minis and the blinkers are from Brett.
The final touches include a custom seat and pair of AVON SM-MK2 400-1 tires. The bike has been painted in blue and gloss black. Heiwa's finished custom Yamaha SR400 is a living testament to the potential of the Yamaha SR400!
Check out the other featured bikes from Heiwa Motorcycle.