'Snatch' came 5th at the 2009 AMD World Championship, built by Satya Kraus – Kraus Motor Company.
Based in the sheer mountains of Cazadero, Northern California. Satya Kraus has great passion and respect for old school styles and the people who make them. In many ways we all have a certain affection for vintage things. Kraus Motor Co builds motorcycles with innovative ideas and precise engineering; their bikes are beautifully crafted and amazing to ride.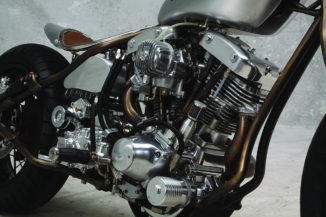 Snatch is powered by 91" Hybrid Harley-Davidson Showel/Evo engine; Satya did quite a bit of reshaping to the barrels, heads and rocker boxes, to get the lump to look good. The motor was stripped, polished and heavily modified, and the bulletproof tansmission is a Baker powerbox.
Kraus coated the frame with brass/bronze using a metal spray and patinas then a light sand to bring the color out. Snach has 28° rake, which lends itself to agile handling. The rear suspension system provides a solid 3 inches of travel and retain. The front end is traditional Springers, which also provides a solid 3 inches of travel and retain. Kraus built the gas tank using aluminum, which resembles an old '70s Honda Elsinore. Motocross style handlebars with clean Kraus twist control. Snatch rolls on Italian-made Alpina tubeless spoke, brakes are Brembo four-piston front and rear. A drive train, which screams raw performance through a 2 into 1 stainless exhaust. Kraus bent up some stainless tubing to frame in the aluminum teardrop seat pan, Beaver Leather Craft provided the perfect saddle of Buffalo hide.
The result is an aggressive looking and beautifully crafted 'Snatch', built for performance and style. There is a lot to love about this bike but in particular what we think is extra special is the brass and bronze coating, and the hidden number plate beneath the seat. The craftsmanship on this bike is amazing; please click on the large thumbnail to view this bike in detail.