Throughout history Ducati Motorcycles have been known for style and performance. Their fans are far and wide across the globe and if you stumble upon a Ducati fan and ask which Ducati model they desire most, the answer would be the original Ducati 750 Super Sport Green Frame of 1974.
After Ducati's 750 twin blitzed the field at the 1972 Imola Road Race, demand for a production version of this motorcycle was off the chart. Ducati got to work and finally in 1974 the Ducati 750 Super Sport Green Frame was released to the public. This Italian motorcycle was the pinnacle of Ducati engineering and design, a definite stand out from Ducati's impressive line up.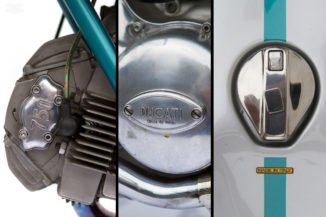 Part of what made this motorcycle special was the v-twin engine with 2 smaller engines joined at 90 degrees, ensuring the bike had super power and great symmetry. We were also surprised to learn that the engines on this model were all handmade and no 2 would be identical. A pretty cool feature of the motorcycle is the hand cut window in the tank which is the fuel gauge.
Unfortunately the unique design meant it was far to expensive to produce and only one production run of 401 were ever made. An original Ducati 750 Super Sport Green Frame can cost you anything from $135,000.
We are not sure how much this Replica will set you back but according to the website it is for sale, contact Deus Ex Machina for more details!
1/02: Edited because we have just found out this bike was not built by Deus, the website has been updated today. It was built by Gowanlach Ducati Sydney in 1978 and won the Best in Show at the Ducati Owners Club 2011. Deus is selling this bike via their showroom.