If you had to pick the greatest team in Grand Prix racing history, who would you pick? My answer to that would possibly be MV Agusta. From 1950 to the late 1960's and beyond MV Agusta won everything that was worth winning at world level.
The name Agusta first rose to fame in the early twentieth century, identifying a pioneer in the hatchling Italian aeronautics industry: Count Giovanni Agusta. Count died in 1927, leaving the company in the hands of his wife and sons, Domenico, Vincenzo, Mario and Corrado. Count Vincenzo Agusta together with his brother Domenico formed MV Agusta at the end of the Second World War, as a means to save the jobs of the employees of the Agusta firm and also to fill the post-war need for cheap and efficient transportation.
In the autumn of 1945 the first MV Agusta was presented to the public. It was meant to be called Vespa 98, but it was found that the name had already been registered. It was then referred as number 98 and was available in Touring and Economical versions.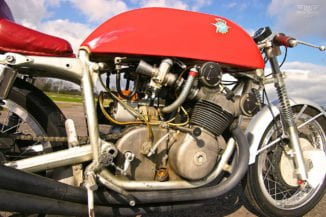 In 1948, the company built a 125cc two-stroke single and entered Franco Bertoni in the Italian Grand Prix. Bertoni won the event held in Monza and instantly put the new motorcycle manufacturer on the map. MV Agusta won no less then 37 World Championships between 1952 and 1974, more than twice as many as their closest rival Honda managed to achieve in the same time.
In the 1949 season, the 125cc or Ultra light weight class gained new prestige. More motorcycle manufacturers were competing in the inaugural World Championships that were held in Switzerland, Netherlands and Italy. The Mondial 125cc DOHC design dominated the 1949 season.
The MV Agusta 500cc four first appeared at theBelgian Grand Prix in 1950 with Arcisco Artesiani on board and finishing in fifth place. A development of Remor's Gilera design, it followed the same basic layout but in some respects took a step backwards, most notably in the use of only two carburetors and the adoption of a shaft drive.
The bike you see here a 1957 MV Agusta 500cc is an example of the fabulous multi cylinder 'fire engines' that got MV Agusta 139 victories and 16 World Championships in Grand Prix racing's premier 500cc class. The race record of its principal components is unknown, it is to this heroic period that this bike belongs.
At the time of being offered for sale this MV Agusta 500cc has been delicately maintained by it's vendor Peter Jones.  The bike is presented in ready to use condition complete with an alternative five-speed gear cluster (a six-speed cluster is currently fitted).