Based in Pescara Italy, Filippo Barbacane is no stranger to the custom motorbike scene having established his workshop 'Officine RossoPuro' (ex Firestarter Garage) in 1998.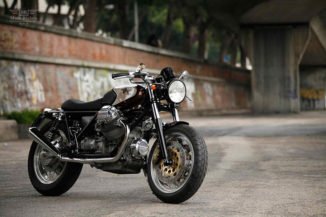 As a result of his love for Italian Motorbikes especially Moto Guzzi's Filippo Barbacane along with Paolo D'Alini is also the co-founder of RossoPuro, which specializes in after market parts for Italian bikes. He has a number of bikes in his portfolio and we were spoilt for choice when deciding which one would be first on our list to feature, we couldn't go past the 'TTre 1000'.
The idea for this bikes name TTre is inspired from the old Moto Guzzi T3 nomenclature and the Isle of Man TT. Based on a 2010 Moto Guzzi SP and maintaining stock internal architecture with five-speed transmission and a shaft drive to power the rear wheel. The TTre also features one of the last Moto Guzzi's to use the famous Tonti frame.
The handlebars are Tarozzi adjustable 45mm and a shaft shaped exhaust is from Megaton. With Marzocchi 45mm front forks and the rear suspension made from two Asatek springs. The TTre rolls on 17-inch tubeless wheels with Brembo front and rear brakes. Much of the bike has been hand-fabricated by Filippo Barbacane including the fuel tank, front fender, rear fender, foot-controls, license plate and the seat.
We love everything thing about this bike but in particular the 70s retro style paint job, every element has been put together with sheer perfection!