Laverda established its superbike credentials with a succession of 1,000cc triples, most notably the Jota and revisited the twin-cylinder class in 1977 with the Alpino.
Inclined at 20 degree from the vertical, Alpino's 497cc engine boasted twin overhead camshafts, four valves per cylinder, a 180-degree crankshaft, horizontally split crankcases and wet-sump lubrication. The state of-the art engine/transmission unit went into a conventional tubular frame while alloy wheels and triple disc brakes were among the other remarkable features. The Montjuic name ranks along with the other renowned bikes in the story of Laverda twin and triples.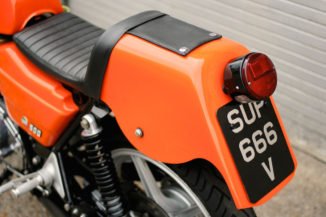 The Montjuic was named after the renowned parkland road circuit in the heart of Barcelona, where Laverda often enjoyed their victory. The official Montjuic production figures are less than 250 units making them a very rare machine, rarer even than an SFC. This bike has Café Racer looks and bright orange paint; Montjuic looked like a Scaled-down 750SFC.
The bodywork was manufactured in the UK by 'Screen and Plastics'. In addition to the simplified mechanical modifications, the Montjuic's cafe racer credentials were complimented with attractive seat and fairings, a set of 'Jota' bars and some elegant cast aluminum rearsets. The bike also features a loud matte black megaphone exhaust system, further enhancing the racing connection.
According to Bike magazine's tester Barry Wingfield the Montjuic was "a lunatic's bike, made to be driven on reflexes fueled by adrenalin. It's best ridden after you've pulled your brain out and left it in a safe place." It's no wonder it was so popular!
The bike was restored by marque specialist Montydons Breganzane of Grimsby. This 1979 Laverda 497cc Montjuic Mk1 was auctioned at Bonham's with a final sale price of £12,650.