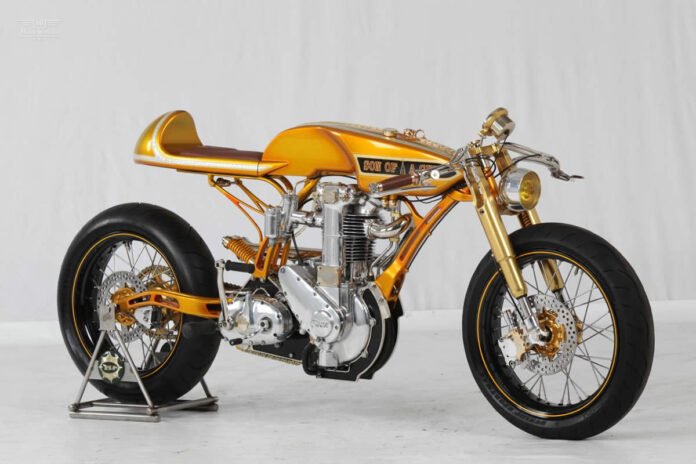 Larry Houghton is the man behind Lamb Engineering, UK. 'Son of a Gun' is said to be one of the most successful UK bikes ever built, after receiving second place in the freestyle class at the 2011 AMD World Championships this is sure to be the case.
According to Larry the design ideas are a cross between 60's racing Hondas, FSIE Yamahas and British motorcycle heritage. A whooping 1400 hours plus was spent on this build, with the monetary cost being a meager $9000 in comparison. How did they produce such a masterpiece so cheaply? Easy, they sourced the materials from a friends scrap bin and the parts from ebay, the rest was many hours of passion, determination and drive.
The engine build on this bike is amazing, it started with an old racing 1951 500cc BSA Gold Star ZB bottom end and Gold Star DB34 top end. Single 13/16" Amal TT carburetor, one off high-level straight through exhaust pipe with flared end in stainless tubes by Maf from Expressive Motorcycles. 'Son of a Gun' also features a BSA M21 4-speed kick start gearbox with open single-row primary chain drive.
The 26 degree neck rake frame on 'Son of a Gun' was handcrafted and carefully welded to achieve a skinny look. The upside down front forks were machined from alloy and assembled with 17-inch excel supermoto wheel rim laced to Talon single-disc hub. The rear end of 'Son of a Gun' is a chain-operated dual-shock swingarm suspension system by Lamb Engineering. The bike has a custom quad-spar handlebar with inverted controls and a brass analogue speedo.
Our favorite part of the bike is the custom fabricated combined petrol/oil tank in steel and custom rigid-mount solo seat base/racing hump from Tony Taysom. The seat covers were built by Scott-Lloyd Motorcycle seats and the beautiful paint work was done by Del Whitaker.
Massive Congratulations to Larry and Lamb Engineering for an award well deserved, we love 'Son of a Gun'!