Just when you thought you have seen all types of Hybrid bikes here comes Piet van den Breevaart from the middle of the Netherlands.
His creation La Haduc Café Racer features a Harley Sportster engine mounted on a Ducati 860 GT bevel frame and rolls on Laverda wheels. Piet has been riding since 1975 mostly on BMW's and since 2003 also Harley's.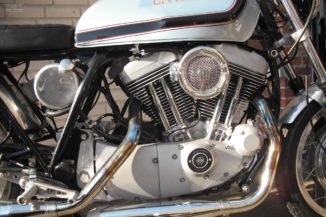 The inspiration for his build La Haduc came from Big Sid`s Vincati. The build started with a 1975 Ducati 860 GT frame mounted with 2004 Harley XL 1200R. The engine was fitted with Kuryakyn Velociraptor airfilter and Harley/Bos exhaust. At the front La Haduc features Ceriani suspension and a Harley-Davidson headlight. The rear bike features Koni`s rear suspension and Miller type rearlight. La Haduc is fitted with 1977 Ducati 500SD gas tank and a Santee alloy oil tank. The front and rear fenders are chopped alloy and were hand fabricated by Piet.
Of course like any custom project the build had its own set of challenges, according to Piet  "The biggest challenge was the chain alignment, also a challenge was to fit this 2004 Harley XL 1200R engine in the frame, an earlier engine was much easier to fit but I could buy the 2004 engine for a very nice price, complete engine for only 1100 euro`s"
Knowing this has a Ducati frame, Harley Sportster engine and Laverda wheels, one question springs to mind; how well does this bike roll?
Answer to that in Piet's word "My favorite thing is riding with the bike, it's surprising how good everything works, the handling is good, the braking is good, less vibrations, enough speed (about 80 horsepower), I am very happy with the final result."
Piet has done almost everything on this bike except the welding, frame paint job and making the engine adapter parts.
The power of Harley trapped in Italian beauty, the finished La Haduc is a low budget Classic Cafe Racer with modern performance!