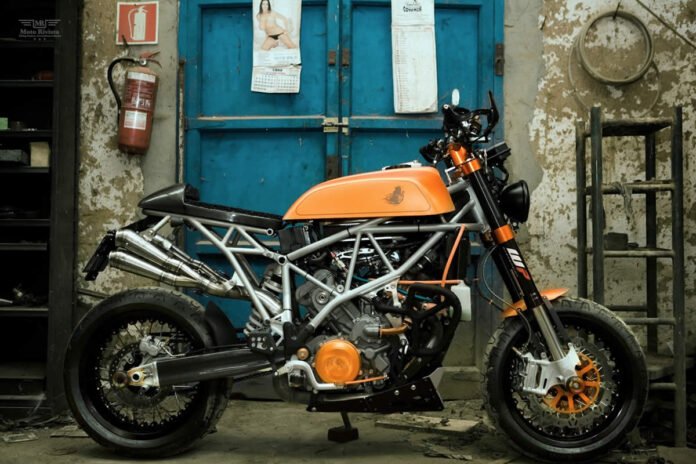 Miss Hyde KTM 950 owned and designed by Manolo 'Osiyuyu' an Antique Art Restorer, Fine Arts University Scholar with a passion for bikes, sounds like a recipe for success.
Miss Hyde is based on a 2006 carbureted KTM 950 SM; the engine has been tuned and stressed in order to bring out the real character of Miss Hyde, what lies behind this naked beauty is 110+ HP monstrosity power.
The custom fabricated dress was crafted by local shop owner Raul Inox. Miss Hyde KTM 950 features a chopped Honda CB 750 F tank with 10 lt capacity. We love the nice little tattoo on Miss Hyde's tank (badge) which was done by Raulowsky and Lana's Paintshop was commissioned to complete the tanning job on this beauty. All the mechanical & electrical work was performed by Tino Mallo.
This beauty rolls on 2x 17′ Kineo wheels wrapped in Pirelli Phantom tires. Hang on a second, don't forget those 2x 320mm Brembo front discs and calipers to calm this beast. KTM racing Neken handlebars with EMIG racing triple trees, an interesting carbon fiber rear cowl from Vespa PK seat. Last but not least the Laser GP Extreme pipes. What an amazing transformation from KTM 950 SM to the Miss Hyde KTM 950, Osiyuyu and the team have tested and tortured this bike to bring the real beast out of it.
Despite having the concept, Osiyuyu is not a bike builder and coordinated the help of several professionals to turn his dream into a reality. Due credit must be given to the following individuals for their contribution to this build, Raul Inox, Raulowsky, Lana's Paintshop and Tino Mallo.
According to the bike's owner, Miss Hyde is not finished and never will be! Same as it should be with any form of artwork.
Special Thanks to El Solitario MC where we first spotted this bike!