JoMo Racing, California returned to the marketplace in the fall of 2009, and is licensed by Johnson Motors Inc.
The history of Johnson Motors dates all the way back to 1936. By 1940 they had changed names and also shortened to JoMo for all racing events, sponsoring their own riders including Bud Ekins.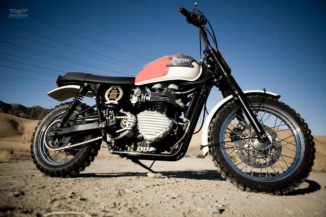 According to JoMo Racing the 'Trophy 55′ is "Inspired by legendary desert racer/stuntman Bud Ekins and the bike he rode to victory in the 1955 Catalina Grand Prix. The Trophy 55 is the perfect blend of the early days of California Desert racing, coupled with the comfort and dependability of a modern machine".
This bike is JoMo Racings most interesting bike, performed on the model Scrambler. Featuring a twin-cylinder 865cc engine with crank at 270° and a raw cast aluminum engine cover. An unusual left mounted exhaust system with double megaphone. Desert Fox Handle Bars and a cast aluminum finned cut-away front sprocket cover – raw with tumbled finish.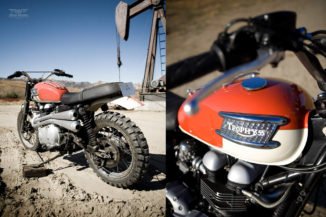 The bike also features a number plate with 2″ Lazerstar headlight, progressive shocks and Lazerstar running brake lights.
What we love about this motorbike is the extra finning on the timing side engine cover. We also like that orange and the cream paint job on the tank with the triumph tank badges. We aren't sure what JoMo Racing is up to these days but if the 3 bikes we found are anything to go by they should be working on some more.