Breaking News! A furious Hurricane Jane from Portugal has hit the shores of Moto Rivista. This category 5 Hurricane is based on a Kawasaki W650 and has been crafted by Maria Motorcycles of Lisbon, Portugal .
This custom Kawasaki W650 has been inspired by the 60´s classic cars. A golden era where cars were simple and beautiful, with silver paintings, brown interior leathers and shining chrome. Maria's design approach is a constant search for that simplicity and classy look.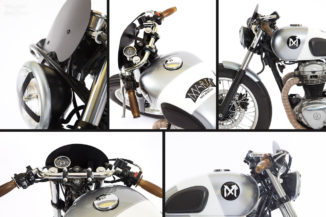 The bike has been painted with subtle colors – silver grey, white and black. It features a leather brown seat that pairs with the gran turismo handlebar grips and the golden chain. The Ace Clubman handlebar is a perfect match to give this Kawasaki W650 the vintage café racer style. The headlight was changed to a smaller one, integrated with a front number plate. At the rear Maria selected a tail lamp used on 1915-33 HD models.
This custom Kawasaki W650 Hurricane Jane rolls on Firestone Deluxe tires, mounted on alloy rims with new spokes and painted hubs. Maria Motorcycles also modified the front and rear fender to suit the new style.
According to Maria Motorcycles "This bike is intended to have some history on it, so we didn't want to give it a brand new shiny look. Some parts where intentionally left as they were, in order to maintain the personality we didn´t want to erase. A mixture of shiny and raw looks is something we find conceptually cool, like the 60´s cars.
Hurricane Jane comes alive when you ride this beauty. The two cylinders, and 650cc are amazingly powerful, and with the carbs re-tuned. Noisy as it can get, the vintage muffler gives us a feeling of riding a real beast. The Daytona speedometer is fitted behind the number plate so you always know how fast you are going over the law!!"
This Kawasaki W650 is small and sweet but really fast and noisy for the ears. This is Jane, a really furious Hurricane!