How much more practical can an 80's Honda FT500 be? That's what I was wondering until I found my answer in this modified version from Italian custom motorbike builder Lorenzo Buratti.
The stock Honda FT500 can mark 50 miles per gallon, but that was not enough. According to Lorenzo "Nothing against Café Racer bikes, I love them, but for this project I needed to follow a different style. This is a city play bike, something you can use to do stupid things in the traffic while on your way to work, lane-splitting hard. For this reason I called it the Metropolitan, as you can see from the skyline paint works on the fuel tank and in the aluminum work above the leather dashboard.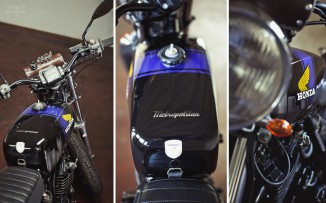 The bike is a 1982 Honda FT500; a reliable engine, a light and maneuverable frame with a low seat height, it was perfect for my project. The fuel tank is from an old Aermacchi Harley Davidson, I love the different square lines.
The seat and the silencer are the remains from an old scrambler project. The seat was restored with new leather and mounted backwards to obtain a very slim back profile. The rear is built up from a single aluminum sheet, just hammered and polished by hand. A very light one not only for the weight, I also try to do something light for the eyes. I also used a 3mm thick leather to connect the rear end with the saddle and to build up a dashboard with all the electrical wires inside. I know this is something really different and not everyone will agree with it.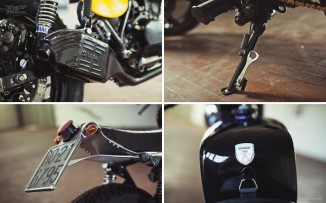 The brake discs are stock but I designed a new profile with holes and then machined with a CNC mill. At the front this Honda FT500 custom features an old headlight from a Ducati monster. I tried to keep the idea I follow with all my bikes, to build something with good style but also with a low budget, built almost completely with some inexpensive tools I have in the garage."
There is not really much of the original body left on this build. I am glad that Lorenzo has taken a unique approach, every-thing on this build seems to fit and flow perfectly. I can imagine Metropolitan conquering the bustling traffic of Cesena, Italy!
So what you think about Lorenzo's take on this Honda FT500 custom?
Customizing motorcycles is not only the skill Lorenzo possess, his main business is to make one off home furniture for bike junkies.