You name it, Chris Tragert has built it! Since the first bike a Honda S90 in 1972, Chris has built a steady stream of race bikes, cafe racers, choppers and customs.
In 1990 Chris created Venice Choppers and has built a number of custom built picture bikes for the use in television commercials. You may have already seen one of Chris's creations in a commercial for Kodak, Coca Cola, Crown Books or Coors Light. Venice Choppers don't only service corporate clients, Chris can perform period correct restorations of original 70's survivors or a ground up custom build.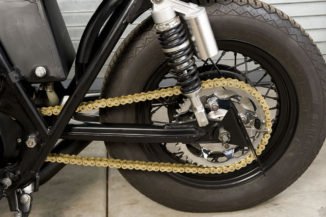 A "proper" cafe racer is fine for nipping down to the pub for a pint, but the streets of L.A. are no tea party. So, when the call went out to build a Venice Cafe Racer, something a bit more revolutionary was in order. My vision was of a low, lean, street racer, with classic styling cues. Says Chris
The starting point for this build was a 1978 Honda CB750F, chosen for it's potent black lump. The Comstar wheels, and bodywork, however, stood in the way of the desired "rocker" look, so a little reverse engineering was in order.
To begin with the build bike was Stripped bare, and shaved, the frame is fitted with forks, swingarm,
wheels, and pegs from a 69 CB750.  The rear subframe was also modified to hold the battery and electrical components, and they are concealed beneath a custom fitted tailpiece. The knee cut-outs on the 69 tank flows into the tuck and roll seat, which creates a narrow cockpit.
The front fork was chopped down to bring the lowered stance, Venice Café Racer features 11-inch shock and a 135/15 radial in the rear.
The engines racer intentions are broadcast through a repro Yoshimura pipe, fueled by round-top carbs with machined stacks, and ignited by a Russ Collins bevel drive spinning a Vertex magneto.
Rounding out the package are a high capacity oil tank, and headlight bucket with integrated Speedo.
"An ocean away from a "motorway", the Venice Cafe Racer gives a not to tradition, while maintaining a singular sense of style." Says Chris