One of the best things about working at Moto Rivista is the element of surprise we get on a daily basis in our inbox. Like this French customized Honda CB550 Four built by Sur Les Chapeaux De Roues.
In 2012 Manuel Jouan and Yann (Mr Dupont) founded Sur Les Chapeaux De Roues. "I came up with this idea after 4-5 years working as a motorbike mechanic in a big workshop, it was a great job but not satisfying enough. We have been riding motorcross for quite a long time, and we also practise other activities including BMX, graffiti & minibike. Sur Les Chapeaux De Roues is a mix of these activities, appliqued to road bikes!" says Manuel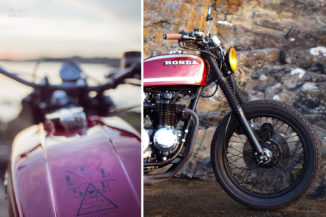 At Sur Les Chapeaux De Roues Manuel Jouan is the mechanic and Yann is the painter. This custom Honda CB550 Four is Manuel's personal ride. Manuel bought the bike in 2012 to ride in the summer, while he waited out winter this year he started customizing it. A total of 150 hours of blood, sweat and beers has been poured into this custom Honda CB550 Four.
To begin the build the stock Honda CB550 Four was dismantled. At the rear the frame buckle was modified and it was also lightened. The fuel tank is from a Honda 400 Four and has been modified to suit the new style. The CB550 engine was cleaned out and polished and is fitted with a 4 in 1 Marving exhaust system.
Mini cross Alloy Ultima bars were mounted with Vans X cult grips. The front forks are original while the rear shock absorber has been replaced with Showa. The original stock wheels were wrapped in a pair of Metzeler Block C tires. The custom seat was upholstered in house by Sur Les Chapeaux De Roues.
The biggest challenge during this custom Honda CB550 Four build was the relocation of the electrical elements and the modification of the frame and fuel tank. According to Manuel "My favorite part is when you finish the build and you kick it the first time and there she starts. You did it, and that's a rewarding feeling!"