Our Japanese friend Hiro & the guys at Motor Garage Goods have added a custom Kawasaki 250TR transformation to their portfolio. The dual-purpose Kawasaki 250TR is the perfect base for custom projects and is becoming a popular choice amongst Japanese custom motorbike builders.
The Kawasaki 250TR is a street legal dual-purpose bike sold in Japan and other Eastern motorcycle markets. The dual-purpose Kawasaki 250TR first appeared in June 1970, it was simple and stylish with retro flair. It featured the engine displacement of 249cc air-cooled 4-stroke SOHC 2 valve single-cylinder.
The base for Motor Garage Goods classic transformation was a stock Kawasaki 250TR. To begin with the build the stock bike was stripped down to the frame, which has been modified at the rear to adapt the new seat. The engine remained untouched apart from the custom fitment of wrapped pipe and trumpet style muffler.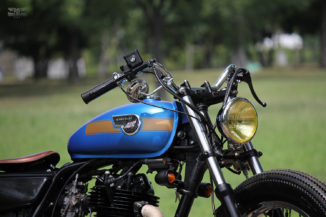 The stock 250TR tank was replaced with a banana fuel tank painted in blue with gold stripes and the classic Kawasaki emblems. At the rear the bike features a bespoke round-bob rear fender and a G-suspension 265. At the front this custom Kawasaki 250TR features a vintage bar fitted with Amal 364 type throttle holder and Jack Hummer grip.
The vintage style front headlight is from Bates while the blinkers are from small bullet, other modification includes a clamp on under mirror. The finished custom Kawasaki 250TR rolls on a pair of vintage style Firestone tires.
It is great to see Motor Garage Goods has used subtle techniques to modify this bike and hasn't over done it by adding too much. The use of the Banana fuel tank and the round-bob rear fender brings great classic lines to this Custom Kawasaki 250TR.
Check out the other featured bikes from Motor Garage Goods.
Disclaimer: If any of the facts in this article have been lost in translation we apologize, please feel free to comment and correct us! Moto Rivista editor