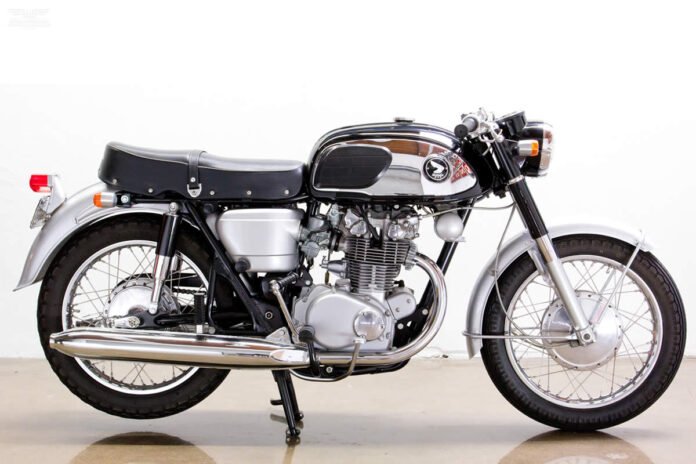 What we have here is extremely rare and believed to be the only 1965 Honda CB450 Black Bomber in the US.
Owned by famous actor Jason Lee who we already know has some serious taste when it comes to 2 wheelers and quite a collection to match. After finding this beauty Jason took his Black Bomber to Lossa Engineering for a restoration.
The Honda CB450 was the first "big" Honda motorcycle with a 444cc dual overhead cam engine producing 43-45 horsepower (more than 100 HP/ litre). Appearing first in the 1965 four-speed K0 model, and progressing through a series of KX models with various improvements and styling changes, notably a redesigned gas tank and 5 speed transmission in the 1968 K1 model. K0 models are often known as "Black Bomber" models in the U.S. and notable for their distinctive large, square gas tank. In Canada the K1 model was marketed as the Hellcat.
Although the Honda CB450 never sold up to Honda's expectations, it had excellent engineering for the time, notably including reliable electrical components, an electric starter, and a horizontally split crankcase, all features distinct from the British twins of the era. The most radical feature was the valve springing. Instead of the conventional coil springs, it used "torsion bars" – rods of steel that twisted to provide the spring effect.
Lossa Engineering did a mild touch up on the old restoration and repaired some damage. The entire bike was repainted, all new chrome jewels were installed. Bike also features low bars, small signals, Rare 360° crank motor. Lots of new and old stock parts were used for restoration of Honda CB450 Black Bomber.
We are very impressed with the work Jay LaRossa does out in Long Beach and must say we are yet to find something we don't like. Lossa Engineering's website is also worth checking out, it has everything we hope to see when searching for bikes, large images, some info and is super easy to navigate.