The rapid growth of the custom scene has added more styles and variations to the custom built motorcycle. We see many motorcycles which are built following the latest trends, they are built well with a recognizable style.
We also see those who like to push the envelope a little further and try something which might not have been seen before. I like the idea of thinking outside the box, some times you might fail or you might succeed and create something that could be well appreciated by the customer and it's observers.
Old Empire Motorcycles from Great Britain has that flair, their custom Honda CB250 Superdream aka Hunter is a build that I would buy any day. It's not the only great build from OEM, they have built several other motorcycles all with one thing in common, a unique style and OEM's flair.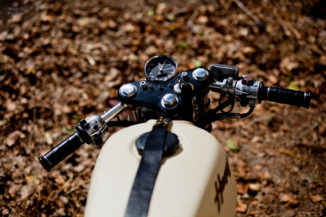 Over to OEM for the story of Hunter "Cradled in its modified frame this renowned 250 twin looks completely at home. The square headlight leads seamlessly into the heavily scalloped tank down through to a neat hand fabricated tail section. Custom clip-ons, short stumpy exhausts and vintage Excelsior tyres complete this builds unique stance and styling.
The Honda CB250 Superdream has been on our list of potential donors that have plenty of potential for a while, when a good friend popped in one day to see the goings on at OEM and before he could leave we managed to strip the bike, a state in which it stayed for quite a while.
Month after month bits were welded on, then quickly removed as the design changed. Turns out for good reason that we had not yet seen a decent custom Honda CB250 Superdream. The frame is very wide at the back creating difficulty in the narrowness of the original tyre on the rear wheel, the ugly top tube and centre post are eye sores as is the void left when removing all the side-panels. Skinny long forks made the whole bike very ungainly looking and the whole stance of the bike was all off.
Out cometh the grinder and eventually after careful consideration and some dutch courage it was chopped and chopped until we lost 3'' on the forks, chopped off the entire rear rails and replaced with a single loop welded inline with the other down rails either side. Knee indents were cut out and clip-ons made up, short stumpy exhausts and some handmade leather satchels mounted to fill the void the sidepanels left.
Voila, a motorcycle we deem to have the stance and styling that the original was always lacking. Considering the effort put into the fabrication and design it seemed a shame not to go for it concerning the finish, which is why Flying tiger paintwork were enlisted for the matt finished ivory white paintwork and artwork. Yes its an absolute b**ch to clean but we think it looks subtle, clean (when its clean) and ties in beautifully with the black tooled leather and brass fittings.
This may not be everybody's cup of tea and it swings away from our usual vintage styling (although we have tried to incorporate bits within the build). We wanted it to be a showcase of what could be done with an example of a bike not yet used for customization, something that is plentiful, cheap and reliable. Its an extreme example of what can be achieved through plenty of thought and consideration and hopefully may provide inspiration for others. Keep a look out for a nearly finished Honda CB400 Superdream which we have taken a similar but very different approach to.
The Hunter is a build of one but we hope to take inspiration from it to build a run of 5 similar bikes some point in the future depending on its popularity. Thanks goes to Flying Tiger Paintwork, Demeanour customs, TEM Sport, Aerocoat powdercoating and Ekquire Motorcycles".