If your imagination is going wild around a Triumph Tiger Cub T20 Motorcycle you may hear these warnings "Let the classic beauty remain in it's original state, you may restore it but don't you dare to modify it". These are the words of a Triumph die-hard fan and I am one of them.
I don't always like people messing with classic Triumph motorcycles. But today's feature build on a Triumph Tiger Cub T20 aka T20 Derringe 200, gets the thumbs up from team Moto. Hand fabricated by Heiwa Motorcycle Japan, this Triumph Tiger Cub T20 is probably one of the most radical Triumph Tiger Cub transformations I have seen so far. It's like a rebirth of a classic legend with the same soul but a new body.
To give you a little flashback " Triumph Tiger Cub is a classic British motorcycle that competed well alongside the other small capacity motorcycles. The Triumph Tiger Cub was originated from a Triumph Terrier with the same fork and the frame. If you ever wanted to know who won an ISDT Gold Medal on a clutchless Tiger Cub, or what Steve McQueen's toughest two-wheeled challenge was, then this is the book for you (Off Road Giants)".
Back to the Heiwa's Triumph Tiger Cub T20. Before I get down to the intense details of this modification, I would like to tell you that most of the parts on this build have been hand fabricated in house by Heiwa Motorcycle. I don't know how this workshop can constantly deliver builds as remarkable as this custom Triumph Tiger Cub T20.
If anything on this build is stock it is that Triumph T20 engine, not sure about the rest parts but I know Heiwa Motorcycle will use it somewhere else. The stock engine was cleaned and features an Amal carburetor, Funnel air cleaner and a custom exhaust. The engine has been mounted on a one-off specially built custom frame.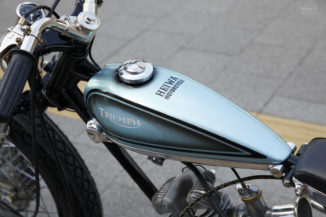 The front end of this custom Triumph Tiger Cub T20 features a one-off handlebar with Amale type handle bar grips and a vintage style headlight. An internal throttle holder by posh, one-off clutch and brake lever. The slim front forks are from Japan Kayaba and the speedometer is a Minis meter.
The intense fabrication work includes a one-off Heiwa style fuel tank, Heiwa style rear fender, a one-off battery case and a flavor-made leather seat. At the rear this custom Triumph Tiger Cub T20 includes an IKON suspension, a Heiwa Motorcycle original taillight and one-off foot pegs. The finished bike rolls on an 18-inch front and 18-inch rear wheels wrapped in Cocker diamond tires.
At Moto Rivista Heiwa Motorcycle holds a special place, creations like these are the testament to the ever growing custom motorcycle culture. If you were lucky enough to be at the recent Yokohama Hot Rod Custom show then you have seen this beauty in person, if not its the perfect example of why a visit next year should be on your to do list!!