If you like a custom Sportster then look no further then Japan, a nation full with custom Sportsters. Just like food and technology the Japanese also have a great passion for Custom and Vintage motorbikes.
Japan also has some of the greatest names in the custom motorbike business, one of them is Hide Motorcycle aka Hidemo who have an ever growing custom Sportster portfolio.
Previously we featured from Hide Motorcycles the Sportster SP-29, the bike we have picked up for today's feature is another from their Sportster portfolio the SP-26. Upon the request of the owner the objective was to build something with a vintage feel. The Sportster SP-26 is based on Harley-Davidson 2010 XL883R.
The one-off low design Hidemo fuel tank with V-checker decals was mounted forming the beautiful lines of the bike and shows the great fabrication skills of this garage. Hidemo also relocated the ignition switch and the wiring under the tank. Following the flow from the fuel tank is the one-off tandem diamond-stitching seat.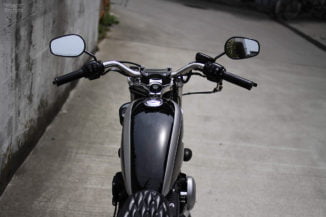 Just like any other Hidemo Sportster this one also features a shortened rear end with Firestone tires and side mount taillight with number plate. Sportster SP-26 is fitted with a two out oval megaphone muffler adding the classic look to the bike and the handlebars on Sportster SP-26 are original HIDEMO "DROPER"
At this point the XL883R Sportster has undergone a significant transformation and turned in to a great vintage themed custom Sportster. Hidemo bikes are not just about great looks they also perform well.
Disclaimer: Sometimes our translation tool leaves us scratching our head wondering what on earth it is trying to say. If any of the facts in this article have been lost in translation we apologize, please feel free to comment and correct us! Moto Rivista editor!