Established in 2001 Hide Motorcycles (Hidemo) Japan builds original custom Harley-Davidsons. The founder Hideya Togashi has over 15 years experience in the industry, and draws inspiration from Vintage American racers.
Hide Motorcycles has competed in a number of custom shows including the Yokohama Hot Rod custom show, AMD European World Championships and the Hot Rod Custom show to name a few. With a Custom Sportster portfolio that is already up to 30 today we are taking a look at the 'Hidemo Sportster SP-29' Cafe Racer.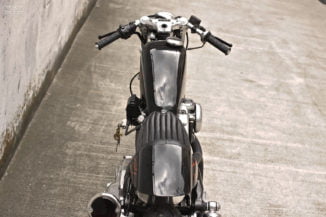 The Hide Motorcycles Sportster SP-29 is based on Hide Motorcycles previous project the Sportster SP-10. The bike has been completely renovated, the original oil tank was heavily modified. With other features including a custom made leather seat, hand fabricated cowl and black painted one off muffler. HDM air cleaners, HDM mini eggs turn signal and HDM side mounted taillight.
The Hide Motorcycles Sportster SP-29 wheels are wrapped in Pirelli MT 66 Route tires. In the end what we have is a fantastic Cafe Racer, which looks much better then it did before. The amount of motorbikes Hide Motorcycles have customized is mind-boggling; we are big fan of their superbly engineered builds.
Disclaimer: Sometimes our translation tool leaves us scratching our head wondering what on earth it is trying to say. If any of the facts in this article have been lost in translation we apologize, please feel free to comment and correct us! Moto Rivista editor!