It all began in 1967 when Rino Caracchi, Giorgio Nepoti and Rizzi teamed up and founded NCR in Bologna, Italy. A top-notch mechanical workshop where they would go to build racing bikes from stock production Ducati bikes.
Rizzi had already left the company and the retirement of the 2 remaining founders Rino and Giorgio marked the beginning of a new era in 2001. This saw NCR become a true production company led by President Stefano Poggipolini (Poggipolini Group).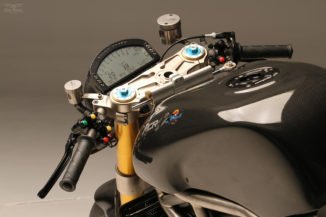 NCR's mission today is "to prove itself to the motorcycling market as a designer and manufacturer of very exclusive motorcycles that use the highest available technology and leading design to a knowledgeable and demanding customer". For the feature today we are taking a look at the NCR M4 which comes in 2 models NCR M4 and NCR M4 One Shot.
The new NCR M4 derives from years of building and racing the NCR Millona to many victories and championships in many countries. The Millona is known for it's light weight and amazing handling. NCR M4 features the same basic geometry and concept; the M4 was designed to be as light or lighter in street trim than the original Millona was in race trim.
The NCR M4 has an air-cooled 1100cc Ducati Monster EVO engine and produces 107 hp at 7,500 rpm, torque of 84 ft-lbs (115 Nm) and a weight of 286 lbs (130 kg) with oil and battery.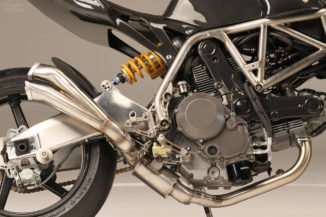 The NCR M4 One Shot comes with a NCR 1200, modified Ducati Monster EVO 1100 engine complete with billet stroker crank, titanium connecting rods, high compressed 102mm pistons, titanium hardware throughout and NCR-EVR slipper clutch. The NCR M4 One Shot produces 132 hp at 8,700 rpm, torque of 105 ft-lbs of torque (143 Nm) and a weight of 278 lbs (126 kg)
The bike also features a pioneering central electronic package which allows for quick disconnects by way of top grade military connectors along with access to many features by way of an USB computer interface and software. NCR exotic parts like billet triple clamps, fork bottoms, rearsets along with Brembo radial controls and calipers and Ohlins suspension front and back add to the impressive list of features.
The NCR M4 and the NCR M4 ONE SHOT are not just a stock standard Italian machine, these bikes are loaded with titanium parts and a ridiculous amount of carbon fiber is used all over the bike. The air cooled Italian stallion NRC M4 comes with titanium frame and subframe along with carbon fiber tank, wheels, instrument cluster, airbox, oil cooler housing and fenders – that's a lot of carbon fiber!
"It is difficult to describe what a 278 lbs (126 Kg), 1200cc street bike feels like because it is not like anything you have tried before. After riding a NCR M4, it is difficult to enjoy riding a motorcycle weighing 100 to 150 lbs more, regardless of the amount of horsepower it may have," said NCR M4 designer and NCR C.O.O., Joe Ippoliti.
First deliveries in the US are expected in the Spring of 2012. The NCR M4 comes with a price tag of $49,900 USD plus applicable taxes, shipping and dealer preparation and the NCR M4 One Shot $69,900 USD plus applicable taxes, shipping and dealer preparation.