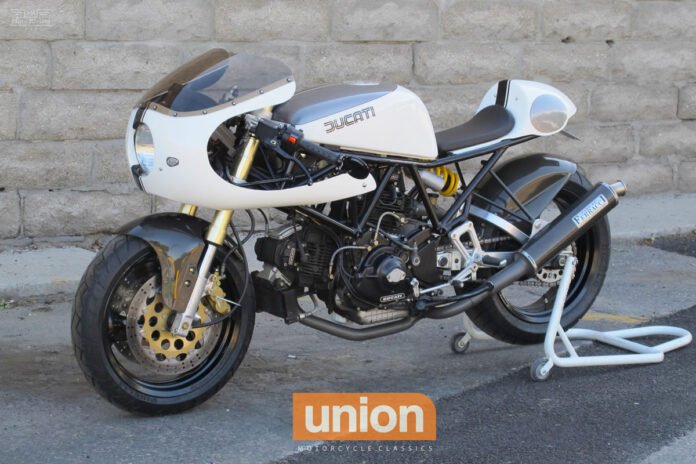 Union  Motorcycle Classics is a vintage motorcycle shop in Nampa, Idaho. Featured on Season 2 of Cafe Racer TV with their 1967 BSA Lightning the workshop consists of primary partners Luke Ransom and Mike Watanabe, with Bret from 'Glass from the Past' also a part of Union.
Mike tells us how it all started "I have tossed the idea of launching Union for many years. My plan was to do it upon retiring from real work. Couldn't do it by myself and Bret lives in Portland Oregon and I am in Idaho. Once Luke and I started hanging out (we met because he was looking for a fairing for a bike he was building) the idea that Union could launch earlier made sense. We were building parts for local riders on a regular basis. Enough work was rolling through that it only made sense to make it a business."
Luke and Mike restored a portion of a 100 year old barn that stands on the farm Mike grew up on and Union Motorcycle Classics was officially born in 2009. Although in a way it has been around for 25 years as a partnership between Bret and Mike.
Luke runs the shop on a day to day basis. His dad also runs a bike shop and has been restoring bikes and muscle cars for 40 years, needless to say Luke has been doing this kind of stuff since he was born. Combine this experience with Luke being a competitive motocross racer who has professional mechanic training and the result is an all around talented mechanic with some great fab skills!
Bret Edwards is the owner of Glass from the Past. Mike helped Bret launch his business 15 years ago, they were building bikes and had no money.  When they needed body work they couldn't find it, or if they did find they couldn't afford it.  They decided to build their own, once they had a few molds Mike talked Bret into offering them up for sale on the web. They traded a BMW seat for the first website and 15 years later this is Bret's full time job.
Mike has another job and a background in industrial and graphic design, he has been building bikes for 25 years. Mike tells us he is mechanical but not a mechanic and he brings the design talent to the group, he also has some pretty good engineering skills for what they do. "Union" seemed like the best name because combined – all of our talents make us better than we are individually" says Mike.
The feature of today is 1993 Ducati 900ss Low Pipe. Lets hand over here to Mike from Union to tell us about the build "A customer in Canada called looking to buy the High Pipe 900ss. The bike wasn't for sale therefore we came up with the idea to build a sister bike for the customer. This project was a great opportunity to make a few changes and build something slightly different to the High Pipe, mainly paint.
Top deck is a tribute to the factory paint scheme on that tank. We sourced a good Ducati 900ss sp. Tore it down to the motor and frame and started fabbing.  Frame is modified from the rear motor mounts back and the tank is a combination of a 750 sport top mated to a Ducati 900ss bttm.  This allows all of the stock airbox, coil mounts, and so forth to be retained.
The tank looks bolt on because it was constructed to operate that way which is easy but very time consuming to do it right. Luckily all of the fiberglass parts had been formed and molds made for the high piper. Bret at Glass from the Past made new parts and off we went. The bike was built on a relatively short budget, this meant that as many stock parts as possible needed to be retained. We decided to build a foundation that the owner can continue to accessorize with bolt on items like rear sets, brakes, controls, and suspension as his budget allowed. I fully expect to see pictures of this bike with more carbon and other aftermarket items as time goes by. This also made us keep the motor in stock tune. Our conversion removes quite a bit of weight on an already light bike, this in itself improves the feel of the bike when ridden."
Fabrication work on this Ducati 900ss Low Pipe included the frame, seat, seat under tray, custom tank, muffler brackets, fairing and headlight brackets.
There are not many custom bike builders around who can play very well with Ducati bikes and produce something as good as Unions "Ducati 900ss Low Pipe". This bike is an excellent transformation from a chunky stock Ducati 900 SS to a sexy Union Ducati 900 SS. The amount of hard work and hours that goes into these bikes is quite remarkable and the end result leaves the question about stock Ducati bikes, are they designed well enough?
Special thanks to Mike from Union Motorcycle Classics for giving us all we needed for this feature!