No Regrets  was the winner of 2006 Discovery Channel's  Biker's build off, it was pretty close build off between Roland Sands & Jesse Rooke.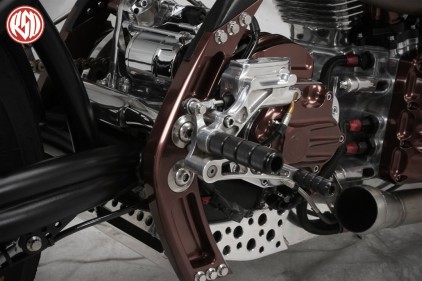 Both are considered the best custom bike builders and also good friends. According to Roland Sands No Regrets is a collision. He names it No Regrets because of his friend Johnny Chop who passed away during the build and his life motto lives on through this bike.
This bike is every thing a Harley-Davidson isn't, except the engine. It's a GIX1000 with the heart of an American V-Twin .  Harley-Davidson and Kendall Johnson  provided the fine 150 horsepower in the Twin cam motor. The steller Dunhill inspired paint job was nicely executed by notorious Chris wood at Airtrix. This is all performance with it's Ohlins suspension, RSD Domino Contrast Cut Wheels wrapped in dunlop racing tires and RSD Nostalgia Motor Cover line .
Engine
Harley-Davidson with Kendall Johnson Upgraded
Displacement 124 Cubic inch
Horsepower
Front Wheel
17 x 3.5 Contrast Cut Domini by RSD
4 Piston Radial Mount Brake Caliper by Performance Machine
Dunlop Sportmax
Rear Wheel
17 x 6 Contrast Cut Domino by RSD
4 Piston Radial Mount Brake Caliper by Performance Machine
Dunlop Sportmax
Suspension
Ohlins Superbike Gas
Charged Racing Fork
Paint