Billy Joel on his tour in Sydney, Australia saw a Deus café racer parked near where he was staying. Then he looked up the address, he loved what he saw the minute he walked in to Deus Sydney shop.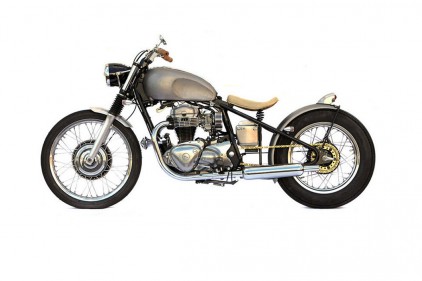 Billy Joel owns his own motorcycle design company in New York (20th Century Cycles). Billy Joel ask Deus the same day to build a motorbike for him. Turning Kawasaki W650 into a unique hardtail chopper is not an easy job, as builders must sacrifice comfort for style and it's the price The Sacred Cow rider will have to pay.
The Sacred Cow Deus W650 has everything, even not all, but only what it takes to be the perfect Bobber. It has something of a Triumph, a Cafe Racer, a chopper, what seems far away in time but then they speed past in a few seconds. And Japanese reliability, the face of the charming English. The Sacred Cow then, it's all re-done by hand, otherwise it would be custom?
Its characteristics: first rigid frame, no welding, only the original piece. And then, the minimalist approach evident in every detail: the tank "aged" with the inscription DEUS, traced the sign of wavering class, which is their trademark.
Brakes Bonneville T120, a classic of the '60s. Even if you define brakes is a bit 'risky. The engine was increased to 720 cc, because the power is everything, especially on a lightweight bike. Handlebar, and chrome exhaust manifolds, to be seen from afar, but style as Spartan tradition, devoid of all that is superfluous. And then the classics shortened fenders "bobbed" and a front wheel 21 ".