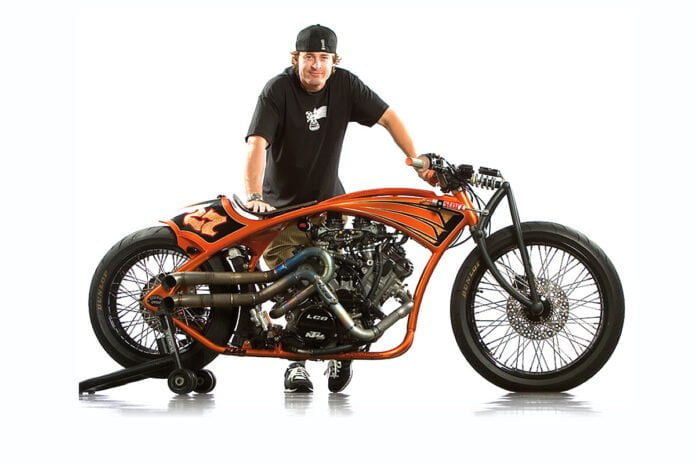 2002 was the year when Jesse Rooke rose up in Custom Motorbike Building world. Since then he has been well appreciated for his artistry and craftsmanship displayed on most of his bikes.
It was the right time when two young bloods Jesse Rooke and Roland Sands rocked up the custom motorbike world with their unique style. Rooke Customs & Roland Sands Design both are considered leaders in the area of performance oriented customs. In 2006 Jesse Rooke builds off against Roland Sands in a special episode of Bikers Build-off; both builders each had to produce a motorbike which was not only ranked by looks but also had to perform in a series of tests which included dragstrip runs and racetrack laps.
Jesse Rooke produced 'Darla' a stunning motorcycle with modest design; the heart of 'Darla' was a lightly tuned KTM 950 V-twin engine. Darla weighed slightly less than 300lbs, with hardtail frame and 100+ wheel, horsepower of the lightly tuned KTM power plant ready to blast off on the street. The wheels, sporty profile, spoke wheels have chrome and black combination. The dual exhaust is lovely elbows welded titanium custom signed by FMF. Behind rigid chassis has been created by Anthony Keling and Jesse himself, to which have exquisite fibers mounted air races of yesteryear and a seat with retro line. Finally, the specialist Troy Lee Designs did the painting on Darla.
Although Roland Sands 'No Regrets' was declared the winner, Jesse Rookes 'Darla' was still a remarkably beautiful piece of artistry and functional machinery.
Click here to see Roland Sands 'No Regrets'