Today's feature bike a Custom Royal Enfield aka Pup built by Old Empire Motorcycles is like a time machine, taking me right back to the time I spent with my Dad working on his Royal Enfield.
Royal Enfield is the oldest motorcycle brand still in production today, with the Bullet model celebrating the longest motorcycle production run of all time. Despite this we haven't seen many Custom Royal Enfield's popping up on our page, so when we find one like Pup it is pretty special!
Over to Alec for the run down "Old Empire Motorcycles founding was born through an absolute and enduring passion for everything two wheeled. Experience gained through working at a similar enterprise only further fueled a desire to put our own stamp and style on the motorcycle world and show people what we really can do.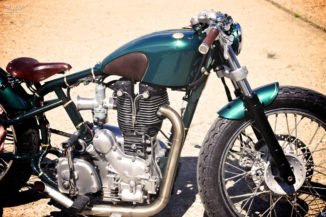 'Pure Motorcycle' sums up how we like to design and create our motorcycles, taking a back to basics, stripped down approach to create ride-able motorcycles in their purist form.
The custom Royal Enfield Pup truly takes our 'Pure Motorcycle' motto and holds it close to its thumping heart. It takes you back to the fundamentals of motorcycling where handlebars, a seat, some wheels and an engine is all that is needed to enjoy the 'purity' of riding a British made, handmade custom motorcycle. A blend of bobber and boardtracker, the Pup is a perfect mixture of old and new.
Its namesake is the Sopwith Pup, a world war one biplane flown by the RAF in its infancy, its small size and maneuverability made it a popular choice for young British pilots, which we felt was apt as our custom Royal Enfield Pup seems to share those very same characteristics. It is the resulting product of using modern day engineering and reliability in a combination with the sleek and classic aesthetics of bygone days, which really makes this a special and unique motorcycle both to admire and to ride.
The biggest challenge we believe at OEM in any builds is designing and making a well balanced motorcycle, where there is a happy medium between form and function because as any builder knows the further you push up the form scale then the further you slip down the function scale. The Pups achieves this. She's not a long distance tourer by any stretch of the imagination but she is the sort of ride you wheel out on a summers day,  thwack her round inner city roads then potter along some country roads stopping at a few pubs along the way, essentially she's a 'bar hopper'."
Build Specification of Custom Royal Enfield :
2008-2009 Royal Enfield electra x donor motorcycle
Customised frame, fixed axle with chain tensioner
Custom license plate, bracket and Lucas rear light
Custom tank, scalloped with leather knee pads
Modified Aprilia rs50 yokes, fork rechromed, legs shaved, ..lowered 1.5′'
Modified Aprilia rs50 caliper w/ Royal Enfield disc
Remote Grimeca front brake master cylinder
Royal Enfield drum brake rear
Modified foot controls
Brooks sprung leather saddle and grips (modified)
Koso electronic speedo w/ warning lights
Front and rear chrome oval LED stalk indicators
Mini Bates headlight
Stainless steel custom bars
Amal 900 concentric carburettor conversion kit

Replica chrome choke, decompression lever, indicator ..switch and high/low beam switch
All custom cables
Chrome Doherty levers
Custom kickstand
Custom headstock taper roller bearing cups
Cloth covered pvc wiring, brass ties
Nano-gel battery, new relays, ignition switch ..and toggle switches.
Custom stainless steel exhaust w/ mini baffle
Front and rear aluminium mudguards
Painted tank, guards and headlight w/ pin striping
Powdercoat frame and attachments
Chromed/painted/polished/scotched engine, ..gearbox and attachments.
Apologies again to Alec and OEM for taking so long to feature this beauty