The economy has been pretty tough around the world but that doesn't stop a custom craving, people will always try to find a way to fill that custom desire.
If you have the money you can go and get a stock bike or you could choose an old school custom bike from the likes of Steel Bent Customs. Dan Rodriguez and Michael Mundy the co-founders of Steel Bent Customs consider themselves garage builders, taking old bikes and giving them a new lease of life is what they love doing.
According to Steel Bent "We travel quite a distance to find the right bike in the right condition for the build. On a few rare occasions, the bikes find us. By the time our bikes are out of the photography studio, they are typically sold. However, we can build another or anything you can dream up. Our commission builds are between $5000 and $6000. We take 1/2 upfront and we start searching for the donor bike. We favor Honda's, but we love all things fossil fueled".
For today's feature we are taking a look at their latest creation a custom Honda CB500 Cafe Brat. The build of this custom Honda CB500 Cafe Brat started out as a stock Honda CB500 that was found at Dime City Cycles. "She was there for an engine rebuild & Herm contacted us to say the owner was thinking of selling. We grabbed her up quickly -thank you to Jason & Herm at DCC!"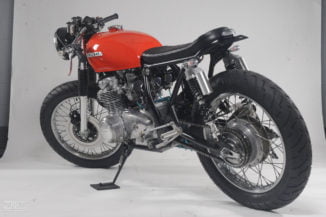 To begin the build the stock bike was stripped down to the frame, next the frame under went many man-hours of cutting and grinding to get the right style for the build. The stock CB500 engine was polished, overhauled and was fitted with a custom 4 into 1 exhaust.
According to Steel Bent "The mid 60's-70's Japanese engines are a testament to the craftsmanship and reliability, but often need refreshing after years of neglect. We rebuild the carburetors and re-jet for the pods/velocity stacks and typically re-wire the ignition coils. Cables, fork seals, bearings and whatever she needs, she gets."
At the front this custom Honda CB500 Cafe Brat features a Clubman bars vintage looking headlight. At the rear the bike includes Loaded Gun rear-sets. The finished bike rolls on Shinko tires and the seat was wrapped by Lance's. The orange color for the tank was the client's selection, which looks fantastic with the black on the rest of bike.
"We weld, we grind, we sweat and we bleed until she is ready to ride. Then, she gets fresh fluids & she is ready to fire. We ride her, and we ride her hard. We want her to fail in our hands before we ship a bike to a buyer 1000+ miles away" says Michael
Interested in a custom build from Steel Bent Customs, then check out their website or facebook page.