Some of you may own a Harley-Davidson Sportster and might be looking for some custom inspiration. Well your search for inspiration is over, Roberto Rossi's custom Harley Sportster Stellalpina is here.
Italy's Roberto Rossi is a true artist, each bike that rolls out of his custom art gallery has tailored sensibility and great precision. Now picture the stock Harley-Davidson Sportster in your mind and then look at Roberto's Stellalpina, what you see in his custom creation is a pure form of art and passion.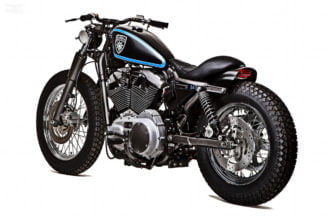 According to Roberto "Stellalpina is an unconventional Sportster adapted for the mountain joyrides, that's the reason why it's name is Stellalpina (Alpine star)".
The base for this build was a stock 2004 Harley-Davidson XL1200 Sportster. To begin the build the stock Sportster fuel tank was modified which now sits lower and backward. The stock Harley-Davidson XL1200 frame was modified shorter, lowered and was painted with special paint. The weight distribution has been shifted to the rear which makes the bike more agile and much easier to control.
At the front Stellalpina has been crowned with a Bates head light and a Fat Boy grafted front fork is adapted to the Sportster frame. At the rear Roberto's custom Harley Sportster features a modified Softail rear mudgard with a taillight from Lucas and a special diamond stitch leather seat.
Other fabrication work includes a 2 into 2 custom exhaust, custom handlebar and hand made handlebar controls. The finished Stellalpina rolls on 19-inch front and 16-inch rear spoked wheels wrapped in special Firestone scrambler tires. All the fabrication work and the custom parts are hand made by master builder Roberto Rossi.
The looks of Stellalpina screams to be ridden around winding hills and the most wicked mountain. "The top of the mountain now is closer"… Roberto Rossi
Stellalpina will be produced in a limited edition of 5 and sold at 22,000 euros.