As previously mentioned famous auction house Bonhams has presented a BMW powered auction event at the BMW Museum in Munich on October 1st. Another bike to go under the hammer was this BMW 490cc R50S Classic Racing Motorcycle. The final price to secure this classic beauty was €16,675.
This elegant BMW R50S racing machine was built by a BMW dealer who has specialized in the older models of this brand. The team began its own design with great success, one of their machine's won the Dutch 'Classic Racing' championship.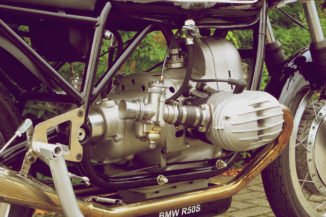 The bike was built with all new parts; the 490cc powerplant features an R50/2 crankshaft with 5mm longer con-rods, R50S pistons; Schleicher RO160 camshaft; special bearings; 38/34mm inlet/exhaust valves; 2kg flywheel (6.2kg standard); and a 3-litre sump.
The bike also features reconditioned, original Dell'Orto SSI 29 race carburettors supply the mixture, which exits via 38mm down-pipes into a full stainless steel exhaust system. This BMW Racer engine currently produces 42.8bhp at 8,000rpm (at the rear wheel) with maximum torque of 40.5 Nm (29.9lb/ft) at 5,960 revs. The gearbox contains a 'long' 1st gear, close 2nd and 3rd ratios and standard 4th (top). All the bearings were also replaced.
The black powder coated frame is based on the BMW RS54; the fork is modified R60 and the rear suspension comes from Hagon.
The fuel tank and seat are original designs by the manufacturer. This BMW racer rolls on 18-inch aluminum wheels with stainless steel spokes and a new Yamaha TZ 260mm four-leading-shoe front brake with modified BMW '/6' hub at the rear. Other features include new Magura handlebar controls, new Bowden cables and numerous nickel-plated parts. Spare parts offered with the bikes are a 32/9 final drive (for longer circuits), sparkplugs, set of rockers, pushrods, carburettor jets, a centre stand, oils and technical information.
Presented in race-worthy condition, the BMW racer has a wheelbase of 1375mm and weighs 158kg ready for the track.