Introducing Cafe Racer Dreams latest creation a custom BMW R100RT aka Ruby Ring, a classic transformation of a BMW touring motorcycle. The BMW R100RT was first introduced in 1978, as BMW's first "full-dress" tourer.
Custom BMW Motorcycles are popping up all around the globe; known for its distinctive engine style and pioneered German engineering. BMW Motorcycles have always captivated custom motorbike builders and enthusiasts alike.
"The idea behind the build was to build a motorcycle which could be ridden long distances therefore a paralever should be fitted. All the modification on this bike had to be reliable for daily use for the owner 'Enea'." says Pery from Cafe Racer Dreams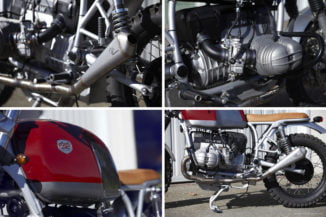 To begin with the build the stock BMW R100RT was completely dismantled including the engine. The stock engine has been heavily modified by the BMW experts from MaxBOXER. The engine work includes the amplified 980 to 1040cc and lightweight pistons, running at 7mm shorter and lighter piston. CRD have also installed dell'orto carburetors and K&N air filters fitted with a GR handmade exhaust system.
At the front this custom BMW R100RT features a rebuilt 41mm front fork, an ultra low Renthal handlebar fitted with enduro style light switches, CRD headlight and Moto Gadget speedometer. The original fuel tank is painted in red and features the CRD emblems. The entire rear of the bike is a new design and features Hagon Nitro Shock absorbers, making it much more agile than the original.
Fabrication work includes a hand fabricated front and rear fender and a number plate. The finished bike rolls on Continental TKC 80 front and rear tires, the front wheel has been installed with hard dual piston calipers & 320mm Brembo brake.
According to Pery "For us, this custom BMW R100RT has been a challenge in general, but we can say that a few parts gave more than a headache, the electrical, ignition system and the paint job was not easy. Which at first glance may seem easy but it is difficult to see on other bikes (including original bikes from leading brands), with this finish"
The finished custom BMW R100RT has a great vintage look and feel packed with modern day performance. A flawless creation from Café Racer dreams fire up the image gallery and enjoy the details of this custom BMW motorcycle.
Check out the other featured bikes from Cafe Racer Dreams.