We all have seen loads of road bike or sports bikes transforming into a café racer. But it's not that often you will see an off road Yamaha TT350 blending into a Café Racer and a Board Tracker aka Little Misfit.
An attempt that I always thought was quite unusual has been put together by Roberto Polizzi of Dagger Cycles in Northern Italy. According to Roby "Since I was a little child as long as I can remember I have always been on two wheels. I worked in a motorbike spare parts shop in the past and now in a motorcycle garage, which is a new project with a friend Andrea Campagnolo in order to build special bikes. This garage's name is "Leave Your S" and it's where my special was finally born.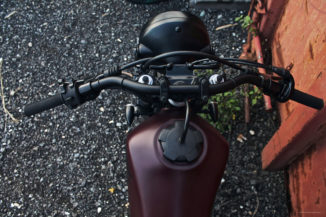 I started building this bike during the transition between the old and the new job. I found a 1991 Yamaha TT350 3GJ in a friend's garage, it wasn't in good condition because of the time spent on off road tracks but it was still running. I took that Yamaha TT350 to my garage and I started moving around it just to discover what it could become. Usually I don't run a project with an exact idea of what I want, in my mind I had one starting idea: a bike made with cheap parts and stuff found in scrap metal.
I've always been a huge fan of Mad Max, the Road Warrior, so the best would have been building a punkish post atomic bike that could make a humongous smile.
With a bike like the Yamaha TT350 the idol transformation would be an old fashioned stylish scrambler. But my final concept for this project was something completely against the trend. What I did differently from the others was, I started from an off road bike and I got a sort of Café Racer. Well, It's not so easy to realize which type of bike it is. It looks like a strange mix between a Café Racer, a Board Tracker and a hardcore punk singer: that's why I called it "Little Misfit", a misfit to the other bikes!
With this Yamaha TT350 custom I also started my own brand, Dagger Cycles: the name comes from the two daggers I got tattooed on my arms. I chose this name also because it sounds like "stabbing" the stock bikes with my modifications.
This Yamaha TT350 Custom Little Misfit is my personal bike, it's a pleasure to ride because it's very light, 125 kg, and extremely funny, nevertheless it is completely homologated, so no problem with the law. I made it as I wanted, just to get around and make some noise because in the end… I'm just here for the gasoline!" Here here Roby and aren't we all!!!
"Yamaha TT350 Custom" specifications:
Custom base: Yamaha TT350cc 3GJ m.y. 1991
Frame: original, powder coated
Rear shock: Cagiva elefant 200
Front fork: Honda XL 125 "(shortened)
Front wheel: Honda XL 125 black galvanized spokes/powder coated rim
Rear wheel: Stock Raggi black galvanized spokes/powder coated rim

Front tyre: Metzeler

Exhaust: original exhaust manifold with bandage

Muffler: Honda crf 250 black anodized
Handlebar: ergal naked handlebar, upsidedown mounted

Front light: powder coated classic light

Indicators: indicators bracket handmade

Tank: Honda xl 125
Seat: hand made
Tail: fiberglass tail modified for the rear light

Fork leg caps: Volume knob earrings

Chain tensioner: skateboard wheel

Air filters: Conic air filters

Starter knob: brass knuckle shaped spring for hair