The Wheels and Waves 2014 festival in Biarritz has just wrapped up for another year. Alexis Le Naour reports " Day 2, hard to wake up, grey clouds in the sky, not a good sign for the 200 km trip. But as soon as we're on our bikes, no doubt left, this will be a great day.
We go to the lighthouse, and again, bikes are everywhere in the city, driving together, by groups of ten or twenty, (quite) safely.
Just in time to get a map of the trip, and we are leaving the place, aiming for the mountains. A very nice trip, small and beautiful mountain roads, and bigger roads down in Spain. Time to release some horsepower, for some of them with a sound from hell!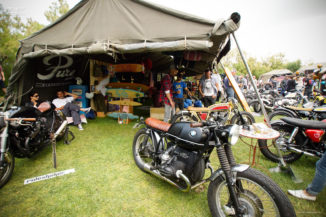 The trip finished following the ocean, along big beautiful cliffs. We end at the lighthouse, taking a look at bikes and shops.
Really nice stuff, (a bit expensive!). All the known workshops are here, Wrenchmonkees, Blitz Motorcycles, El Solitario, Deus Ex Machina, Roland Sands and many more.
On the BMW Motorrad stand, the last BMW 9T is shown, next to these prepared by Blitz, El Solitario and (I don't remember the name… guys from Sweden I think?).
Concert starts, night falls slowly, bikes are leaving the place. We didn't see everything (some art exhibitions, the race etc) but it was a very good week end. We will obviously be coming again next year.
Time to leave, with beautiful images in our heads, and a lot of new ideas for Manu and Yann at Sur Les Chapeaux De Roues! "
Report & Images by Alexis Le Naour | Traveling with Sur Les Chapeaux De Roues | at Wheels and Waves 2014