Heading to Biarritz with Manu and Yann from Sur Les Chapeaux De Roues creative photographer Alexis Le Naour gives us a first hand report of their experience at the Wheels and Waves 2014 festival. If we can't be there then the next best thing is to live vicariously through someone else s experience! Thank you Alexis!
Part One by Alexis Le Naour – "Time to go, the sun is with us, ready to burn our skins through our leather jackets. It's an 8 hour trip, and believe me, for a French guy, it's quite a big one!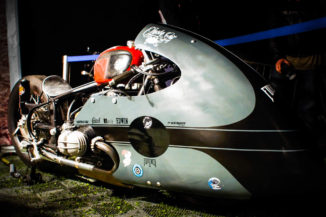 Nantes, Bordeaux, La Rochelle, south getting closer and closer, and finally we are here, Biarritz! Sadly, we were too late for the race, but we catch everyone at the lighthouse. Bikes are EVERYWHERE!
And many of them would give you a heart attack! You can hear bikes all over the city, all around you, and they're not quiet. People seem to come from many different countries, you can hear Spanish, German, Italian, English…
Famous brands are here, Ruby helmets, BMW Motorrad, Yamaha, Indian
Motorcycle and many more. Unfortunately for us only a few of them were still open at this hour, no worries we will see more of them tomorrow.
It's time to leave now, and get prepared for tomorrows trip, 200 km around the Spain border, deep inside the Pyrenees Mountains.
Finally we have a last beer at the pub, and many people were supporting Australia! (World Cup 2014).​"
Report & Images by Alexis Le Naour |Traveling with Sur Les Chapeaux De Roues | at Wheels and Waves 2014