Recently we added Doctor Who, a great hand crafted Motorcycle from Atom Bomb Customs.  Velvet Underground is the latest creation of Clay Rathburn of Atom Bomb Customs.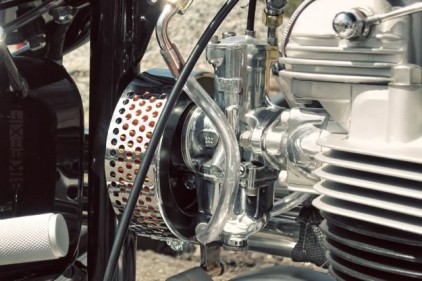 Clay started building this bike from nothing more than a neck and a water filled engine that had been sitting since 1976. Since he had to fabricate the frame, Clay decided that he might as well make everything else on the bike that they possibly could build.
The end result was the most hand-crafted bike yet from Atom Bomb, with the tank, fender, and oil bag being hand fabricated from aluminum. Clay also made the foot controls, pegs, exhaust and bars. The engine was of course rebuilt in house as well, it's back to stock specs but with a TR6 single carb head to make life a little easier on the new owner.