Founded by John Goodman in Birmingham England 1904, was a small family owned company called Veloce Ltd.
They may not have had the sales of the likes of BSA, Norton and Triumph however they did hold their own when it came to international motorcycle racing. Despite being a small company they were also technical innovators and several of their patented designs are common on motorcycles today, for example the positive stop foot shift and the swinging arm rear suspension with hydraulic damper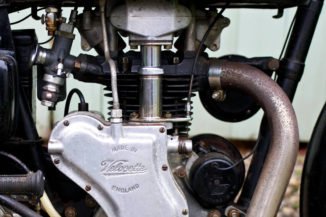 Velocette was the name given to the motorcycles produced by Veloce Ltd. For today's feature we would like to jump in the timeline of history and take a look at the 1935 Velocette 249cc MOV. In 1933 the company introduced a new line of overhead valve (OHV) machines, in order to cut production costs and make a more affordable motorcycle.
The first of these new machines was the MOV, using a 250 cc engine of 'square' dimensions (68 mm bore x 68 mm stroke). It was an instant sales success, having vivacious performance for the time (78 mph/126 km/h), and proved to be a reliable machine with outstanding road manners. The MOV also proved a very successful engine to race in the 250-class worldwide.
From this machine and by lengthening the stroke of the crankshaft, the Velocette MAC 350 cc was introduced in 1934. It proved even more popular than the MOV, and became a real money-spinner for the company, bringing much needed capital into the firm. In 1935 an entirely new machine was introduced, based on the two previous OHV models, the Velocette MSS of 500 cc.
The MOV was dropped at the end of 1948 but the MAC soldiered on into the 1960s, gaining an alloy engine top end and Velocette's own telescopic fork for 1951, and a swinging-arm frame in 1953.
Voluntarily liquidated the company has been defunct since 1971.
This 1935 Velocette 249cc MOV was auctioned at Bonham's with a final sale price of £7,475.