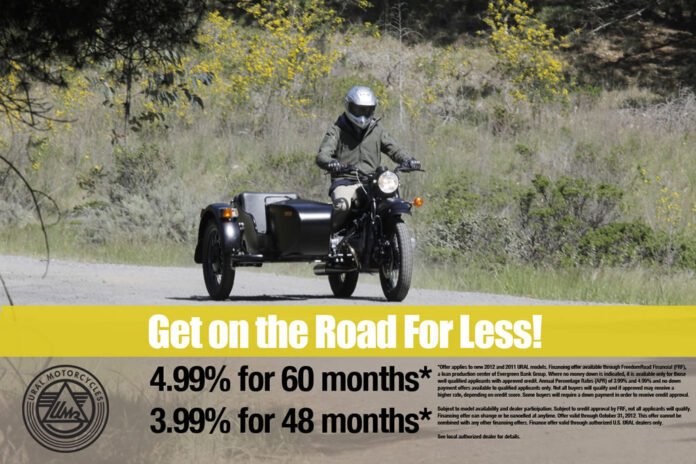 Ural Motorcycles & FreedomRoad Financial Offer Low Interest Zero Money Down Fall Retail Promotion.
Redmond, WA (August 30, 2012) – Experiencing pre-recession style growth, Ural Motorcycles is gaining access to US-based financial programs while positioning itself in new markets across the country. As a direct result of 2011 and 2012 model sales, Ural has been able to partner with FreedomRoad Financial, and offer a financial incentive to its dealers and would-be customers.
From September 1 to October 31, 2012, official Ural dealers that are signed up with FreedomRoad Financial will be able to offer a 4.99% APR for 60 months, or 3.99% APR for 48 months, with zero down payment to all qualified buyers. This deal applies to all 2012—and any remaining 2011—models.
As sales continue to grow in the US, Ural is afforded more opportunities to support their dealer network and incentivize retail sales. Says Ural's Dealer Development Manager Chuck Schram, "It is a great opportunity to work with FreedomRoad Financial, and to be able to offer our dealers and potential customers an easy, affordable, and market relevant financing package. The potential of this program is really positive, and I'm excited to consider this the first of many retail promotions that Ural will offer."
Additionally, any powersports dealer that is not currently an official Ural dealer—but is interested in pursuing the opportunity—should contact Chuck Schram.
With new Urals, special projects, dealers, and retail promotions on the way, 2012+ promises to continue the excitement and success of 2011. For all dealer or retail enquiries, please email Chuck Schram at chuck@imz-ural.com.