The spirit and the art of custom motorcycles takes place in the hills of the Italian countryside, where master craftsman Roberto Rossi tailors amazing custom motorbikes.
His shop infuses great elements of art and craftsmanship, it's a place where time has stopped to witness the work of Roberto Rossi. Roberto's passion for motorcycles goes all the way back to his childhood. Growing up as a kid he spent his time in the family garage with his father who used to collect engines and cars, a usual place for a young curious boy to hang out.
The passion for motorcycles was ignited; when he was 13 he got arrested riding a 1938 Moto Guzzi without a license. I have something in common with Roberto, I was also in deep water when I was 13 and got caught riding my dads Royal Enfield! By the time he was 16-years-old, Roberto spent most of his waking hours consuming motorcycle magazines. When he discovered Harley-Davidson he had become addicted to the machines. After a trip to the U.S., Roberto's father gave him a 1000cc Ironhead Sporty, and since that moment Roberto's dream has been to customize and sell H-D motorcycles.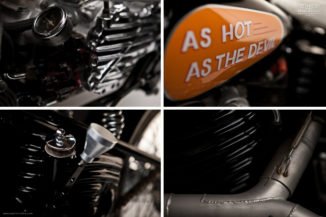 In 1997 Roberto Rossi opened his shop, creating his own brand with a logo showcasing the daisy, a symbol of his childhood and his land. The Daisy logo can easily be spotted in most of Roberto's creations. I have to admit that there is this mysterious gravitation in Roberto's work, looking at his work is like a trip in to the past. For today's feature we are blessed with Fenomeno AKA Devil.
Fenomeno AKA Devil is the result of extensive research; this beautifully proportioned machine recalls the old racers of the past. The components on this Devil include a Harley Knucklehead engine and 1945 straight leg frame, an original gas tank, which was chopped and reduced to adapt the new style.
This Devil also features 18"/19" Borrani rim wrapped in Coker tires, mechanical brake and special reproduction oil tank (Daytona equipment) with refill oil left near clutch. A megaphone muffler with homemade satin finish and modified carburetor with special air intake. The seat and the pads are from Giuliari racing. At the front the bike features H-D Springer front end, Hollywood handlebars original "Jack Tracey" racing equipment, Daytona windshield and Fairbanks magneto. The footpegs are Roberto Rossi specials with his logo.
This two-year build was another blank check deal, commissioned by a customer who simply wanted a special Knucklehead, relying exclusively on Roberto's good taste to make it happen. The finished Fenomeno AKA Devil is an absolute delight to observe and it is as hot as the Devil. I can't wait to book my flight to visit Roberto's shop one day!