I would like to introduce you to a custom descendent of the glorious Moto Guzzi Nuovo Falcone, hand crafted by Danish custom artists the Wrenchmonkees. If motorcycles were the invention of our times, I wouldn't be sitting here and writing this article.
The vintage & classic era of motorcycles are the source for modern day customs and stock motorcycle inspiration. Big thanks to the motorcycle engineers and enthusiasts, without their passion and courage we would never know what it's like to be on a motorcycle.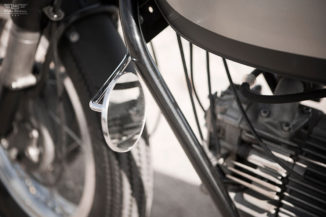 On the grand scale of the worlds custom scene the Wrenchmonkees need no introduction, their custom crafts have been commissioned and appreciated across Europe.
Moto Guzzi Nuovo Falcone (New Falcon) was produced from 1969 to 1976. It followed the same line of the Falcone 500 singles made by Guzzi since 1950. The Nuovo Falcone was noticeably modernized from the earlier Falcone. The original Falcone featured a non-unit looking engine and gearbox with magneto ignition and a dry sump. The Nuovo Falcone had unit construction, coil and battery ignition and wet sump. These bikes were quite popular with the Italian police and army.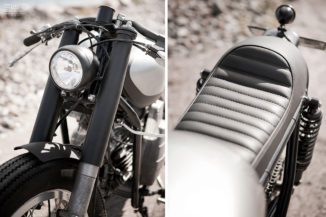 By the looks of this build it seems like the Wrenchmonkees have taken the classic Moto Guzzi Nuovo Falcone and stripped it down elegantly to the bare minimum. The frame on this beauty is stock standard, while the rear houses a WM rearloop. The brakes and carbs are standard so is the front fork and swingarm. The Moto Guzzi Nuovo Falcone engine was overhauled and has been upgraded with a 600 ccm big bore kit.
I personally like the Wrenchmonkees choice of fuel tank, which is a Suzuki GS. The 19" font and rear wheels were rebuilt and were wrapped in Firestone deluxe tires. The upholstery work includes a one-off WM seat, which also forms great lines from the tank. The front headlights and rear taillight are WM production and there are vintage racing grips, whilst the fabrication work includes a on-off front and rear fender.
The finished custom Moto Guzzi Nuovo Falcone looks compact and balanced with a touch of Wrenchmonkees style.