While the jury is still out over who created the first Hamburger there is no dispute over where the name originates from, which is Hamburg Germany. Something else which comes from Hamburg is this delightful custom dose of a Le Mans Mk III from Axel Budde's kaffeemaschine workshop.
Axel Budde's custom motorcycles have been featured several times on Moto Rivista. I have to admit it, Axel's builds have constantly delivered elegance and performance for those who thrive for more and more from custom crafts. His latest build is this custom Le Mans Mk III aka "Caffettiera d´oro" meaning golden coffee machine. Caffettiera can also be a nickname for an old and deserted vehicle, in Axel's words "I like the double sense".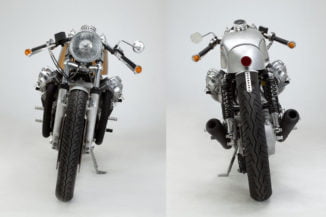 The base for the build was a Le Mans III, which already had Le Mans 4 heads and bigger carburetors. The engine was uprated further to 1040ccm with new cylinders. Axel's personal favorite tuner HTMoto have tuned this Le Mans III with dynamically balanced crank drive, special cam, twin spark heads, electronic ignition and a bespoke exhaust system.
At the front the fork got progressive springs, modern dampers and new bleeders. While at the rear this Le Mans Mk III features Ikons shocks, especially built for kaffeemaschine. To clean up the look of the bike the old wiring loom was replaced with minimal wire loom. A Motogadget tachometer was fitted and spokes were laced with Morad wheels.
On this custom Le Mans Mk III all the alloy parts were hand fabricated by kaffeemaschine. A lot of fabrication work has been added to the fuel tank to achieve the new design. "I wanted to design a classic, elegant tank, putting emphasis on the Guzzi´s unique geometry and shape." says Axel.
The tank and the seats are available upon request for your own Le Mans transformation. Axel's Le Mans Mk III and his race bikes were presented at Custombike 2012 in Bad Salzuflen at the booth of the Ace café.
To appreciate Axel's other creations visit his kaffeemaschine website or follow up on his new Facebook page.