The 2012 AMD World Championships has revealed many amazing custom motorcycles from around the world. One of them is built by Mike Tomas of Kiwi Indian Motorcycle Company in Riverside, California.
His board track racer called 'Hendee Deviant' took third place in the AMD World Championships production manufacturer class. Born in New Zealand, Mike Tomas bought his first motorcycle at 16 a Honda CB100. His love for Indian Motorcycles started at the age of 18 when he first saw a military Indian 741. In the late 70's he left New Zealand and moved to Canada and then finally settled in the US.
When Mike arrived in America he discovered many of his idols of Indian restoration were false. The cheap parts – even many expensive ones – were weak as putty, and would quickly fail. With the help of his wife Carolyn, Mike started to make parts that were strong and long lasting. Together, they built Kiwi Indian Parts from tiny beginnings into the modern business it is today, dedicated to keeping Indians alive.
According to Mike "My inspiration is that I have the best customers in the world. I like to pay tribute to the past and my twist is building such bikes but blending our modern engineering into them. This way you can have an old style bike that is rideable. I'm an Indian MC builder but I love the early board track racer bikes. The early 20's era HD's look mean and race ready that I just couldn't resist paying tribute to them".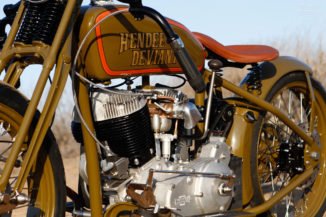 Lets get down to the build of "Hendee Deviant", starting with the engine. The bike features Kiwi Mike's proprietary 84 cubic inch engine, which is pure sex at its finest. The air-cooled v-twin engine features low maintenance valve adjusters, 4-speed overdrive and synchromesh transmission and maintenance free CV carburetor. Mike's Kiwi Power Plants are handcrafted in California, with over 30 years of experience these beauties don't disappoint. This engine is well suited for old school rides such as bobbers, choppers, board track racers and custom motorcycles.
Mike's Kiwi power plant is wrapped with Kiwi single loop board track racer frame made from DOM American made tubing. The handlebars are Kiwi drop down 3 piece with internal controls and rotatable bar ends for street riding. The oil tank has been built into the rear fender and a board tracker seat with compression springs was added. Hendee Deviant also features a 20's styled board track racer fuel tank.
'Hendee Deviant' rolls on 21-inch front and rear wheels laced with stainless steel spokes and wrapped in Avon tires. Other parts include Hydraulic brakes with 10″ Kiwi rotors, dual piston calipers and front quad piston calipers. The finished 'Hendee Deviant' was painted by Johnson Customs. The level of craftsmanship and engineering work on this bike is amazing, there is no question about Mike being the Indian specialist!
Mike has received numerous awards both within and outside of the industry. Mike was also a technical adviser for the Hollywood movie 'Worlds Fastest Indian'. In many ways Mikes passion reminds me of Burt Munro, both came from New Zealand and did something not many would dare to.
Mikes Hendee Deviant board track racer was captured by talented photographer Kevin Kidder, fire-up the image galley to see the beautiful shots.