Based in the English Riviera, today we would like to introduce you to Kevils Speed Shop. Founded by Kevin Hill, Kevils Speed Shop has a soft spot for old BMW boxers.
I am sure lots of our readers have something in common with Kev and that's a soft spot for BMW boxers. Built around a horizontally opposed flat-twin boxer engine the BMW R series aesthetics are mesmerizing for any BMW motorbike enthusiast.
According to Kev "Truth be told, I fell for bikes early in life when my dad took me to the Bristol Motorcycle Show in the seventies and I was hooked! The shiny new bikes and that smell did it for me, then I found myself in the middle of some sort of mid-life crisis and you could say bikes are my passion"
For today's focus we are taking a look at the Kevils Speed Shop scrambler style custom BMW R100 "MAGNUM", the bike was commissioned by Steve of Essex.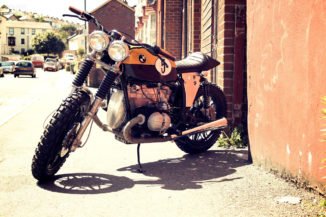 "Magnum is one of my latest creations, it's a 1980 r100 1000cc street scrambler style. This bike features dual mega silencers ,titanium wrapped headers, twin headlight conversion, fully upholstered seat, digital speedo unit, kevils side mount licence plate as well as custom black and gold paint work. The name for the bike came about because of two reasons; firstly it's black and gold like the ice cream of the same name, also it was commissioned by a guy called Higgins the same name as the butler in the eighties TV show Magnum.
I'm pretty busy building one a month of these special one of a kind custom BMW's in my shop. Any one wishing to commission a similar street scrambler or one of my cool cafe racers should contact me via email kevils@hotmail.co.uk or Facebook" says Kev.
The finished BMW R100 "MAGNUM" is a classic looking street scrambler, the entire structure of the build flows perfectly with the style. This is just the first of many custom bikes to be featured from Kevils Speed Shop on Moto Rivista!