Darizt Design is a home garage in Jogia, Java Indonesia. Today we are taking a look at Darizt Design's custom Kawasaki Z200  aka '9th Attempt', before we get to the bike we must rewind and talk about how it all started, that's where the inspiration begins.
Agus has always worked in a creative field, in jobs such as book illustrator, statue maker or interior designer. With a mind racing with ideas and a love of bikes, surely that is a match made in heaven? Just a couple of problems, Indonesia has a limited selection of bikes and Agus didn't have the money for a real bike. So he began by making custom bikes from scaled model kits.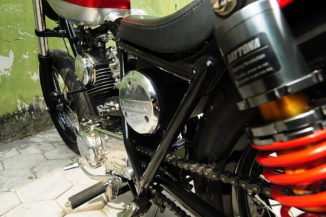 With his dream of building bikes fading, 3 years ago he was convinced to build a custom bike for a friend. That was all Agus needed and the beginning of Daritz Designs, his dream was a reality. 'Preambule' was the 1st attempt from Darizt Designs, Agus tells us "For me building a bike is just like painting or making a statue but with different media. It has to be something new and different but come with distinctive style, the theme and concept has to be clear. Because I want my custom bikes to be valued and appreciated just like a painting or other work of art".
For the 1st Attempt Agus needed to learn how to weld, how to use a bench lathe machine and also refine his metal shaping techniques. Having a little help from his brothers with the preparation and research, Agus does the custom work mostly by himself. With a creative mind he is able to draw inspiration from wherever he goes, and as a junk collector he would regularly visit the junkyard, flea market or hardware store to find different things he could put on his bikes.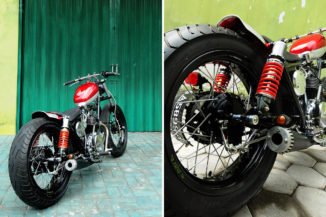 The '9th Attempt' is based on a Kawasaki Z200 and took about 3 months to complete. The original frame was completely modified to extend the wheelbase. To boost up the performance the cylinder head was bored up and the piston was replaced with the bigger size from an 80's Honda Civic. The stock carb was replaced with the Mikuni 32mm and the ignition and wiring were upgraded.
The front suspension is from a Yamaha Byson, and the rear comes from Daytona. '9th Attempt' rolls on 18-3.00 wheels front and 17-4.50 rear wrapped in 120/80-18 front tire, 150/70-17 rear tire.
The fuel tank belongs to an old motorcycle and was salvaged from the junkyard. '9th Attempt' features a few in-house hand fabricated parts including the exhaust pipe, handle bar and saddle all done by Agus himself. The forward controls and the footsteps are made from a bicycle's crank and bottom bracket. A few other parts were also taken from a bicycle including the cable and cable holder. The fuel tank was painted in house, which looks absolutely stunning and it's our favorite.
Despite all the issues and limited finance Agus decided to follow his dream of creating beautiful machines. In the end what we have is a great example of resourcefulness, persistence, creativity and true passion!